PC Hockey Beats UConn Wednesday, Wins Eighth Straight Game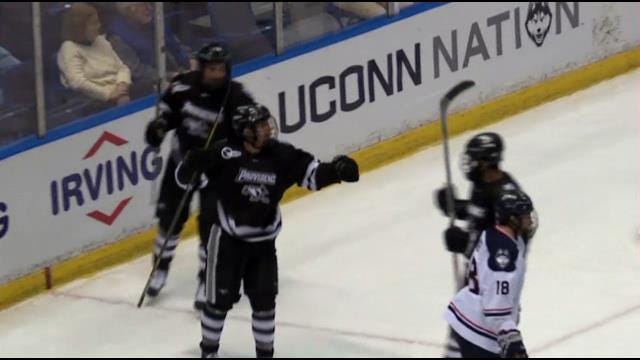 Providence College Press Release
HARTFORD, Conn. – Vimal Sukumaran scored twice and Scott Conway added a goal and an assist as the No. 11/12 Providence College men's hockey team downed UConn, 4-1, at the XL Center on Wednesday night in Hartford, Conn. The Friars extended their season-high winning streak to eight games with the win and improve to 7-0-1 in their last eight road games.
SCORE
No. 11/12 Providence – 4 | UConn – 1
NEW RECORDS
Providence – 17-8-4 (9-6-2 HEA) | UConn – 10-11-8 (6-7-4 HEA)
VENUE
XL Center – Hartford, Conn.
GAME FLOW & NOTES
– The Friars struck just 27 seconds into the game as Brian Pinho tipped a Jake Walman blast from the point for his 8th tally of the season.
– Providence outshot the Huskies by a 17-3 margin in the first period and has outshot opponents 75-27 in the first period over the past five games.
– Providence extended its lead to 2-0 with just 30 seconds to play in the first period as Scott Conway's shot deflected off the skate of Vimal Sukumaran for his 6th goal of the season.
– Providence is 12-4-4 when scoring first this season and is 10-1-2 when leading after 20 minutes.
– Connecticut got on the board at the 15:43 mark of the second period as Karl El-Mir snuck behind the defense and beat Hawkey on a shorthanded breakaway.
– The shorthanded goal was the 5th of the season allowed by the Friars.
– Sukumaran added his second of the game just 2:13 into the third period after crashing the net and stuffing a loose puck past Huska. Kasper Björkqvist and Josh Wilkins were credited with the assists.
– Scott Conway salted the game away with at the 7:07 mark with his 10th strike of the season. Conway joins Erik Foley and Josh Wilkins as Providence's double-digit goal scorers this season.
– Niko Rufo, in his first action since Jan. 8, recorded a team-high six shots on goal.
– Providence is 13-for-13 on the penalty kill over the past three games.
– Hayden Hawkey made 21 saves for the Friars for his 17th win of the season, while Adam Huska stopped 34 for the Black Bears.
– Brian Pinho extended his point streak to five games (2-3-5), while freshman defenseman Jacob Bryson has notched a point in three straight (0-4-4).
– Sukumaran notched his second multi-goal game this season (last at Brown on Oct. 30, 2016). Five of his goals this season have come in his last nine games.
– Shots on goal: Providence 38, UConn 22. Shot attempts: Providence 71, UConn 40.
– Shot blocks: Providence 12, UConn 16.
– Providence has out-scored UConn, 21-4 during their four-game winning streak versus the Huskies.
HOW THEY SCORED
1-0 (PC) – :27/1st – EV – Brian Pinho (Walman) – Walman one-timed a UConn turnover on net and Pinho re-directed the shot over the shoulder of Huska.
2-0 (PC) – 19:30/1st – EV – Vimal Sukumaran (Conway) – After a turnover, Conway cut to the top of the slot and fired a shot off the skate of Sukumaran.
2-1 (UC) – 15:43/2nd – SH – Karl El-Mir (Kalter) – El-Mir got behind the Friar defense and finished a shot over the blocker of Hawkey on a partial breakaway.
3-1 (PC) – 2:13/3rd – EV – Vimal Sukumaran (Björkqvist, Wilkins) – Scrum in the UConn crease and Sukumaran charged in to stuff the loose puck past Huska.
4-1 (PC) – 7:37/3rd – EV – Scott Conway (Bryson) – Bryson fired a diagonal feed to Conway at the top of the crease, Huska stopped the initial shot but Conway finished off the rebound.
PC GAME HIGHS
Points: Sukumaran (2-0-2); Conway (1-1-2)
Goals: Sukumaran (2)
Assists: Conway (1); Wilkins (1); Bryson (1); Björkqvist (1); Walman (1)
Shots: Rufo (6)
Face-offs: Hennessey (14/20)
POWER PLAYS
Providence –0/4
Connecticut – 0/6?
LOOKING AHEAD
The Friars and Huskies will conclude their regular season series on Friday night at Schneider Arena. Prior to Friday night's game, Providence will retire the jerseys of Lou Lamoriello '63, Ron Wilson '77, and Cammi Granato '93.