PC Hockey Blanks Clarkson To Advance In NCAA Tournament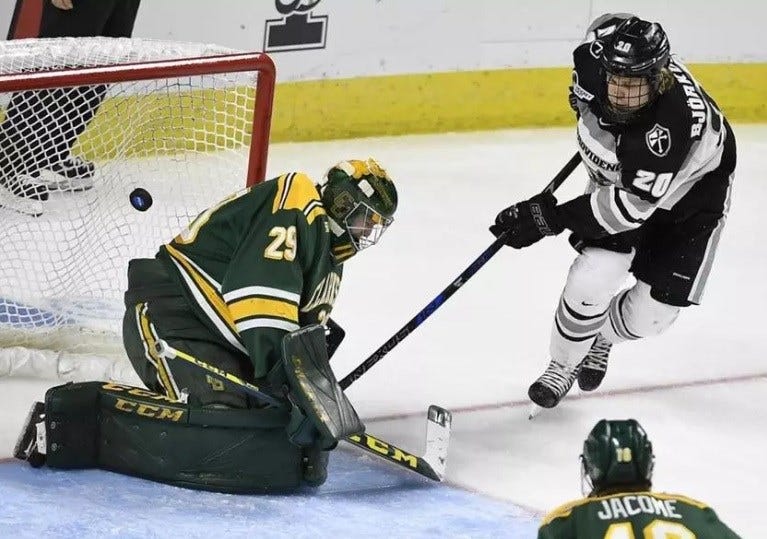 Providence College Press Release
BRIDGEPORT, Conn. – The Providence College men's hockey team avenged two prior losses on Friday night after a 1-0 win over Clarkson at the NCAA East Regional Semifinal in Bridgeport, Conn. With the win, Providence advances to play Notre Dame on Saturday night at 6 p.m. on ESPNU for the right to play in the Frozen Four.
SCORE
No. 7 Providence — 1 | No. 9 Clarkson – 0
RECORDS
Providence — 24-11-4 (13-7-4 HEA) | Clarkson — 23-11-6 (12-5-5 ECAC)
VENUE
Webster Bank Arena — Bridgeport, Conn.
GOALIES
Hayden Hawkey (PC) — 18 saves
Jake Kielly (CU) — 26 saves
NOTES
-Friars will be making their eighth appearance all-time in NCAA Quarterfinal/Regional action. PC has posted a 5-6-0 mark all time in those games. In the Friars' last NCAA Quarterfinal game, the Friars defeated Denver, 4-1, in Providence in 2015. The last time the Friars played in the NCAA Quarterfinals in Bridgeport, PC was defeated by Union, 3-1, in 2014.
– The Friars earned their fifth-consecutive NCAA Tournament bid on Sunday, which is the second-longest active NCAA appearance streak in the nation. Overall, it's the Friars' 14th appearance in the national tournament. Providence is the No. 2 seed in the Bridgeport Regional.
– Nate Leaman has posted a 6-3 NCAA Tournament record while at Providence.
– Providence is 4-4-2 this season against NCAA Tournament teams. Three wins came against Hockey East schools, Boston University and Northeastern and tonight's win over ECAC foe Clarkson.
– Brian Pinho now ranks second all-time at Providence with 155 games played. He sits one game played behind Ross Mauermann for the program record. He will tie Mauerman on Saturday in the team's NCAA game versus Notre Dame.
– Hayden Hawkey is second among goaltenders in the NCAA Tournament field with 48 career wins. He's also fourth in that group with 1,850 career saves.
– It was the third shutout in program history in the NCAA Tournament (1983, 2014).
– The fifth-consecutive season of 20-plus wins is the third-longest active streak in the nation behind Denver (17) and Minnesota State (6).
– Providence is just one of three NCAA Division I programs all-time to send its basketball and hockey teams to the NCAA Tournament in the same season for five consecutive years (Michigan, and Michigan State). The Friars are the only school to accomplish the feat in the last five seasons.
– Including tonight's NCAA game, Providence has won each of its four playoff games by one goal and are 11-4-0 overall this season in one-goal games. In seven seasons under Nate Leaman, the Friars are 63-38-0 in one-goal games.
– The Friars are 120-5-10 all-time under Nate Leaman when holding a lead after two periods.
HOW THEY SCORED
1-0 (Providence) — 4:02/1st — PP — Kasper Bjorkqvist (Wilkins, Pinho) — Bjorkqvist, who was on the door step, took a pass from Wilkins who was at the right point, lifted it in high on right side of crease.
PC GAME HIGHS
Goals: Bjorkqvist
Assists: Wilkins, Pinho
Points: Bjorkqvist, Wilkins, Pinho
Shots: Pinho (5), Bryson (3), Duhaime (3), Desharnais (3), Mirageas (3), Conway (3)
POWER PLAYS
Providence — 1/4
Clarkson — 0/2
SHOTS
Providence — 27
Clarkson — 18
UP NEXT
The Friars advance to Saturday night's NCAA East Regional Final against Notre Dame, Faceoff is slated for 6 p.m. on ESPNU.
For more updates on the Providence College men's hockey program, follow the team on Twitter @FriarsHockey.