PC Hockey Friars Picked Third in Hockey East Preseason Coaches Poll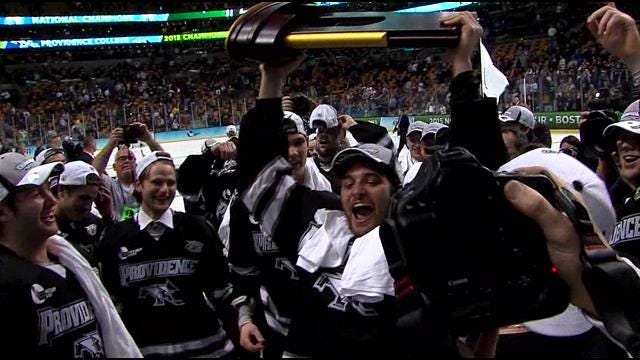 PC hockey news release…
BOSTON – The Providence College men's hockey team placed third overall in the 2015-16 Hockey East Preseason Coaches Poll released at the league's annual media day on Monday (Sept. 21).
Coming off their first ever national championship, the Friars, led by fifth-year Head Coach Nate Leaman, earned two first-place votes in the poll. Boston College, Boston University, UMass Lowell, and Northeastern rounded out the top-five.
In 2014-15, Leaman guided the Friars to back-to-back NCAA Tournament appearances for the first time in program history and Providence posted its second-highest win total of all-time (26), the most since 1982-83 (Lou Lamoriello). He became the youngest head coach to win the NCAA title since 1993 (Shawn Walsh).
This year's edition of the Friars sees nine returning seniors, including leading scorer Nick Saracino (14-24-38) and a stout pair of senior blueliners in John Gilmour (4-7-11) and Tom Parisi (5-14-19).
The promising group of seven freshmen includes three NHL draft picks in Hayden Hawkey, Erik Foley, and Steven Ruggiero. Hawkey was selected by Montreal in the sixth round (177th overall) in the 2014 NHL Draft, while Foley was nabbed by Winnipeg in the third round (78th overall) in the 2015 NHL Draft. Ruggiero was drafted by Anaheim in the sixth round (178th overall) in the 2015 NHL Draft. In total, the Friars boast eight NHL draft selections.
2014-15 Hockey East Pre-Season Poll
1. Boston College (7) – 115
2. Boston University (3) – 107
3. Providence (2) – 95
4. UMass Lowell – 92
5. Northeastern- 76
6. New Hampshire – 74
7. Notre Dame – 72
8. Vermont – 57
9. UConn – 34
10. Maine – 29
11. Merrimack – 27
12. Massachusetts – 14