PC Introduces New Women's Basketball Coach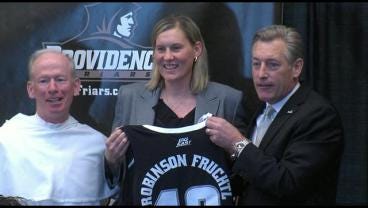 SUSAN ROBINSON FRUCHTL NAMED HEAD WOMEN'S BASKETBALL
COACH AT PROVIDENCE COLLEGE
Former Penn State All-American and Wade Trophy winner becomes
the ninth head coach in program history.
Providence College Athletics Director Bob Driscoll announced today (April 9) that Susan Robinson
PROVIDENCE, R.I. –
Fruchtl has been named head women's basketball coach. Robinson Fruchtl becomes the ninth head coach in the program's
38-year history, and replaces Phil Seymore, who resigned in March to pursue other options.
"We are thrilled to introduce Susan as the ninth women's basketball coach at Providence College," Driscoll said. "She
has demonstrated a high level of success as a coach, a player and in the classroom at a variety of levels. Susan is a winner.
Her commitment to academics and passion for coaching the game of basketball makes her a great fit to lead our
student-athletes and our women's basketball program to the next level."
Robinson Fruchtl will be formally introduced at a news conference on Wednesday, April 11 at 2:00 p.m. The press conference
will take place in the College's Concannon Fitness Center conference room (second floor). The news conference is
open to all Providence College fans and the media. The doors to the Concannon Fitness Center conference room will
open at 1:30 p.m. for fans and media.
"I am humbled and thrilled to become the next head women's basketball coach at Providence College," Robinson Fruchtl
said. "I truly believe that it is a great fit for me and for Providence. Having played at a very high level, I am excited to
be able to recruit and work with student-athletes, who will hopefully share some of the same goals that I had as a
player. I am very proud to represent the Providence Friars and we will work hard to get the word out about Providence
women's basketball. It is an awesome opportunity to build a program and coach in the BIG EAST. It is one of the premier
conferences in the nation, and it will present a serious challenge every night we step on the court. I will strive to get
student-athletes who will love Providence and who will make people proud to come watch them. We want to reach
out to alumni, players and fans in the greater Providence area to let them know that Friartown is heading in a positive
direction. I want to thank Father Shanley, Bob Driscoll and Jill LaPoint for sharing their vision clearly and giving me the
opportunity to lead this program into the future. I look forward to working with everyone at Providence College in making
our program grow."
Robinson Fruchtl comes to Providence College after spending the last five seasons at St. Francis University (Pa.) from
2007-12. She guided the Red Flash to three-consecutive Northeast Conference Championship Games, captured two
conference titles and advanced to the NCAA Tournament in 2010 and 2011.
She garnered Northeast Conference Coach of the Year honors at the completion of the 2011 campaign after leading St.
Francis to a 22-11 overall record and a 14-4 mark in the NEC. That same year, the Red Flash won the NEC regular-season
title and the tournament title. The team's 22 victories in 2011 are tied for third-most in program history.
During Robinson Fruchtl's tenure, a member of the Red Flash earned All-NEC honors six times and two others were selected
to the NEC All-Rookie Team.
Robinson Fruchtl spent eight seasons as an assistant coach at Penn State University (1993-98, 2004-07). The 1992 Penn
State graduate helped guide her alma mater to a 161-83 record (.660) during her eight seasons, including four, 20-win
seasons.
A former All-America selection and Penn State's only recipient of the Wade Trophy, which is presented annually to the
best women's college basketball player in NCAA Division I, Robinson Fruchtl rejoined the Penn State staff in May of 2004
after serving as an assistant from 1993 to 1998. During her time at Penn State, she worked primarily with post players
and assisted with the recruitment of student-athletes. It was under her guidance that former Nittany Lion Amanda
Brown became a third-round selection in the 2007 WNBA draft by the Los Angeles Sparks.
After leaving the Penn State in 1998, Robinson Fruchtl enrolled at Slippery Rock University to pursue her Master's degree
in secondary guidance. During that time she served as a volunteer assistant from 1998-2000 for the North Allegheny
girls' basketball team. Robinson Fruchtl also has a Master's in higher education, which she earned from PSU in 1998.
In June of 2000, she took over as the head girls' basketball coach at Beaver Area High School, where she also worked as
one of the school's guidance counselors. She helped revive the basketball program, and led the Cats to the PIAA Class
AAA Playoffs in each of her final two seasons.
Then known as Susan Robinson, she graduated from Penn State with a B.S. in exercise and sports science in 1992 and
was married to Tony Fruchtl in 1997. Robinson Fruchtl is one of only two players in Penn State history to accumulate
2,000 points and 1,000 rebounds, and was the program's all-time leading scorer with 2,253 points until she was passed
by Kelly Mazzante in 2004.
In 1992, the same season she won the Wade Trophy, she was named a consensus All-American and earned GTE/CoSIDA
Academic All-America honors. As a rookie in 1989, she was named Atlantic 10 Freshman of the Year. Twice she was
named to the All-Atlantic 10 Conference team, and in 1991, she was tabbed Player of the Year. The Center Point, West
Virginia native served as captain of the 1990-91 PSU squad that compiled a 29-2 record and a No. 1 National ranking in
the final AP poll of the regular season.
In 1990, Robinson Fruchtl was a member of the Junior National Team, and also played for the U.S. Select team that
toured Europe. Following her collegiate career she played professionally for one season in Japan.
"I am very pleased to welcome Susan Robinson Fruchtl to Providence College as our new head women's basketball
coach," Providence College President, Reverend Brian J. Shanley, O.P. said. "Susan was an accomplished basketball player
herself while in college, earning All-America honors at Penn State University. Since then, she has compiled an outstanding
record of achievement, first as a high school coach, then as an assistant at her alma mater and, most recently, as the
head coach for the last several years at St. Francis University. We are delighted to welcome her to the Providence College
community and look forward to her leadership of our women's basketball program."