PC Names Scott Borek Associate Head Coach of the Hockey Friars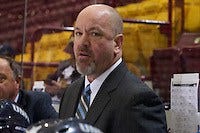 PC news release…
PROVIDENCE, R.I. – Providence College men's hockey Head Coach Nate Leaman announced today (June 5) that Scott Borek has joined the program as an Associate Head Coach. Borek, who was an assistant coach with the Friars from 1985-88, has been an associate head coach and assistant coach with the University of New Hampshire for the past 13 seasons.
"We're excited to be adding Scott to our staff," Leaman said. "He will bring a great amount of experience to the position and he also has a lot of knowledge about the Hockey East, having coached in the league for the past 13 seasons."
"I'm thrilled to be joining the Providence staff and I'm looking forward to working with Coach Leaman, Coach Mayotte, the players and the rest of the staff as they come off the program's first NCAA Championship," Borek said. "It will be great to return to Providence College and I am excited to help continue to build on the Providence College hockey tradition."
Borek began his tenure at New Hampshire as an assistant coach for the 2002-03 season and has been the Wildcats' Associate Head Coach since the 2003-04 season. He served as the Wildcats' recruiting coordinator and his primary responsibilities with the team included working with the offense/forwards and working with the power-play unit.
While at New Hampshire, Borek helped the Wildcats to nine NCAA Tournament appearances and a trip to the 2003 Frozen Four NCAA Championship game (Buffalo, N.Y.). Borek also helped UNH to one Hockey East Tournament title (2003) and four Hockey East Tournament Championship game appearances.
Prior to joining Dick Umile's staff at New Hampshire, Borek served as the head coach at New England College in Henniker, N.H., for the 2001-02 season.
Borek also was the head coach of Lake Superior State of the Central Collegiate Hockey Association for five seasons (1996-2001), following a one year stint as Associate Head Coach with the Lakers (1995-96). As the Lakers' head coach, he was named the CCHA Coach of the Year in 2000 and also was a Spencer Penrose Award Finalist, given to the Div. I National Coach of the Year.

Borek's coaching career began after he sustained a neck injury during his sophomore campaign at Dartmouth College. He graduated from Dartmouth in 1985 with a B.A. in English and became the Big Green's second assistant coach for the 1985-86 season, working alongside current Dartmouth Head Coach, Bob Gaudet.
Borek then moved to Providence College, where he worked under Friar Head Coach Mike McShane for three seasons (1985-88). Next, he spent three years at Brown University (1988-92) as Gaudet's assistant. He then served as the head coach at Colby College (Div. III) for three seasons before heading to Lake Superior State. At Colby, he was a finalist for the Eddie Jeremiah National Div. III National Coach of the Year Award in 1994.