PC Women Skate Past Brown to Win Mayor's Cup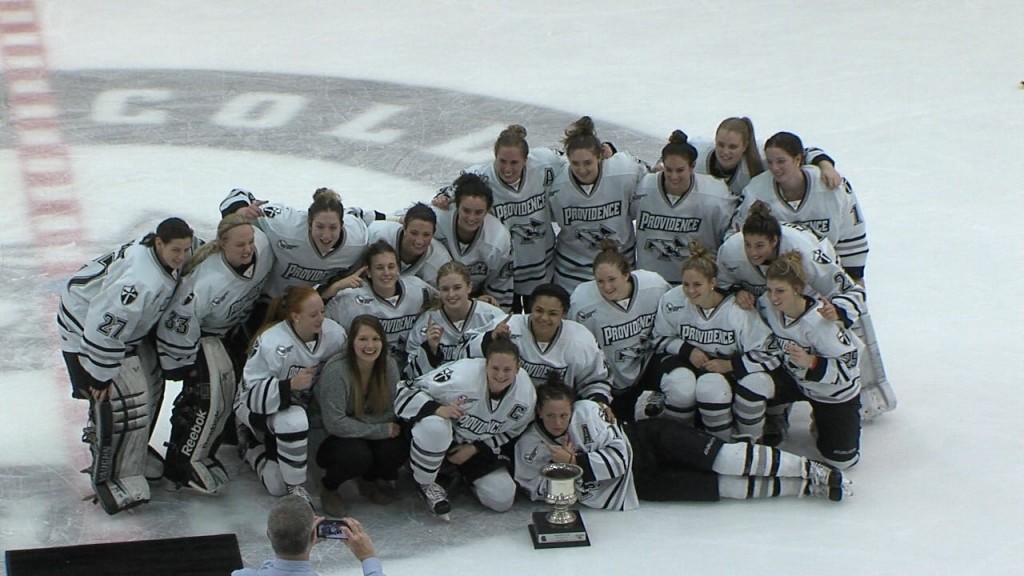 Brown news release…
PROVIDENCE, R.I. – The Brown women's hockey team was defeated 6-1 by Providence in the 21st Annual Mayor's Cup at Schneider Arena on Saturday afternoon.
Brown's offense opened the first period generating multiple scoring opportunities, the best coming from junior Maddie Woo (Plymouth, Mass.) when she gathered her own rebound from a blocked shot and fired it back on net, hitting the pipe. Shortly after Woo's scoring chance, the Friars took a 1-0 lead at 12:49 with a power-play goal from Lexi Romanchuk. Junior Monica Elvin (Oakland, Calif.) finished the opening period with a total of eight saves.
The Friars offense doubled Brown's shots in the second period, 18-9, and took at 2-0 lead at 10:46 with Cassidy Carels' power-play goal. Elvin finished the period with 17 saves. Brown was unable to convert in man-up chances in the period, going 0-for-4 while on the power play. The Bears' defense fought off three of the four Brown penalties.
Providence added its third power-play goal in the third period (4:08), when Christina Putigna scored following a battle in front of the net, to give PC a 3-0 lead. Later in the period, sophomore Sam Donovan (New Brighton, Minn.) scored her team-leading fifth goal of the year at 12:32 while Brown was on the power play. Donovan received a pass from freshman Bridget Carey (Weymouth, Mass.) in front of the net. Junior Erin Conway (Jackson, Mich.) also assisted on the tally.
Carels then scored her second goal of the game for PC just after Donovan's goal, at 12:56 to bring the Friars' lead to 4-1.
Brown pulled Elvin at 17:19 in the third to have a 6-on-4 advantage. The Bears kept Elvin pulled until Brooke Boquist scored an empty net goal for PC (19:13) while Brown was playing 6-on-5. Providence added its final score at 19:47 when Kate Friesen scored.
For the game, Elvin made 33 saves while Madison Myers made 20 saves.
The Bears will next compete in two away games, with the first one at Union on Friday, Dec. 4 at 3:00 p.m. and the second contest at Rensselaer on Saturday, Dec. 5 at 3:00 p.m.