PC Women Win Crosstown Rivalry Against Brown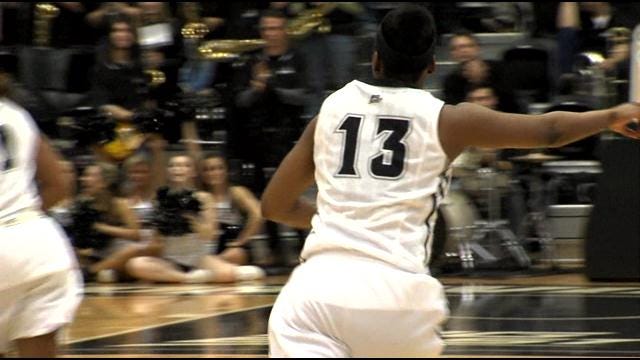 PC news release…
PROVIDENCE, R.I. – The Providence College women's basketball team topped Brown, 78-69, in its home opener on Tuesday, November 18 at Alumni Hall in Providence, R.I. Sophomore guard Sarah Beal (Matthews, N.C.) led the Friar effort with 24 points, six assists and four rebounds. With the win the Friars improve to 1-1 (0-0 BIG EAST) on the year while Brown moves to 1-1.
Providence jumped out to an early 10-2 lead to open the first half (17:07). Providence remained in control and held a five point advantage with 3:05 left to play in the half. Brown closed the half on a 9-2 run. Rebecca Musgrove tallied a basket with 27 seconds remaining in the half to give the Bears a 33-31 edge headed into the break. Jordin Alexander and Musgrove led Brown in scoring with 10 and nine points, respectively. Seniors Chanise Baldwin (Pontiac, Mich.) and Tori Rule (Minneapolis, Minn.) paced the Friar offense with seven points each. Rule went 3-for-3 shooting from the field and Baldwin finished 5-for-6 from the charity stripe.
In the second half, Brown extended its lead to as many as seven points, 42-35 (17:58). Providence regained the lead on back-to-back 3-pointers from Rule (56-52) with 8:19 left to play. Beal tallied 22 of her 24 points in the final 20 minutes to guide the Friars to victory. Rule added 13 points in the second half on 5-of-8 shooting from the field (3-for-6 3-pt).
The Friars shot 24-for-31 from the charity stripe, led by Beal who downed 12-of-14 free throw attempts. Beal downed her final free throw with 28 seconds remaining to give the Friars their largest lead of the game, 11 points (78-69).
Rule and senior forward Alexis Harris (Minneapolis, Minn.) joined Beal in double figures with 20 and 10 points, respectively. Rule finished 8-for-11 from the field including 4-for-7 from three-point range.
Baldwin and Harris combined for 21 of the Friars' 44 boards. In addition, Harris tied her career-high in steals (3).
Providence returns to action on Thursday, November 20 when the Friars travel to West Hartford, Conn. for an evening match-up with the Hartford Hawks. Tip-off at Chase Family Arena is scheduled for 7:00 p.m.