PC Women's Basketball Beats Xavier, "Pink Out Friartown" Raises Breast Cancer Awareness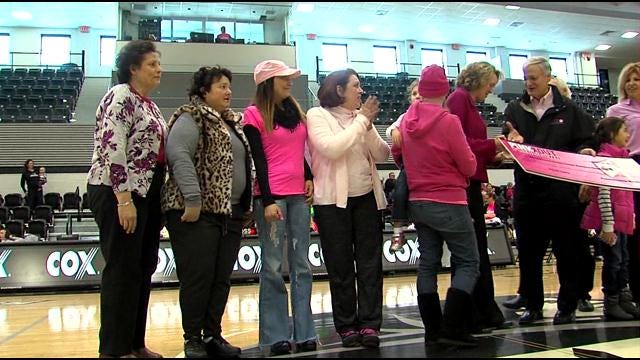 Providence College Press Release
PROVIDENCE, R.I. – The Providence College women's basketball team recorded its second BIG EAST win of the season with a 61-59 finish over Xavier on Saturday, Feb. 22 at Alumni Hall in Providence, R.I. The afternoon match-up served as the backdrop to the Friars' annual Pink Out Friartown game. Prior to the start of the game, seniors Danielle Pearson (Brooklyn, N.Y.), Nikki Turcotte (North Smithfield, R.I.) and team manager Steve Kogut were honored for their accomplishments and contributions to program.
Freshman Sarah Beal (Matthews, N.C.) fueled the Friars with a second half surge scoring all 18 of her points.
Xavier opened the game on an 8-2 run with 16:39 left to play in the first half. Beginning at the 16:21 mark the Friars went on an 11-4 run to claim its first lead of the game (13-12). Providence extended its margin to as many as five points, 18-13, and the Friars carried a 20-18 lead into the break. Junior guard Tori Rule (Minneapolis, Minn.) led all scorers with eight points. Briana Glover paced the Musketeers with seven points.
Xavier regained the lead, 38-37, with 9:15 left to play in regulation. Beginning at the 8:28 mark the Musketeers went on a 10-4 run to extend their lead to five points (48-43). After trading baskets on both ends of the floor, Beal drained a 3-pointer to tie the game, 49-49, with 4:33 left to play. The basket served as her 13th point. In the final 3:47 of play there were eight lead changes. With 22 seconds left in the game, the Friars inbounded the ball out of a timeout to Alexis Harris (Detroit, Mich.), who was tightly guarded in the paint. Harris found sophomore Evi Iiskola (Espoo, Finland) who drove to the basket and finished a layup to give the Friars the lead (60-59). Iiskola was fouled on her way to the basket and converted the traditional three-point play to secure the Friars' victory.
Three Friars joined Beal in double figures. Rule and junior guard Karin Robinson (Jamaica, N.Y.) tallied 13 points each. Harris finished with 12 points and 11 boards to notch her 11th career double-double. Harris also tallied four blocks and dished out the game-winning assist.
Providence returns to action on Sat., March 1 when the Friars travel to Washington, D.C. for a 3:00 p.m. match-up with Georgetown. The game marks the Friars' final regular season road game.