PC's Cotton Named to All-District Team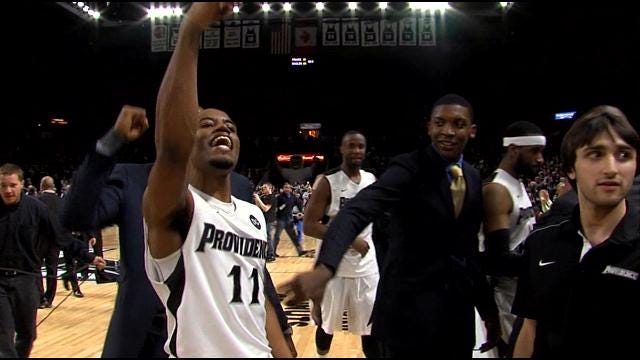 PC news release…
Providence's Cotton Named To U.S. Basketball Writers Association All-District Team
Cotton leads the nation in minutes played, averaging 40.1.
PROVIDENCE, R.I. –
Providence's College senior guard Bryce Cotton (Tucson, Ariz.) was
named to the District I All-District Team as it was announced by the
U.S. Basketball Writers Association on Tuesday, March 11. District I
includes players
from Maine, Vermont, New Hampshire, Rhode Island, Massachusetts and
Connecticut.
The honor comes a day after Cotton was named Second Team All-American
and two days after being named First Team All-BIG EAST. Cotton earned
the honor after leading the BIG EAST in assistS with 6.1 in league
contests. The senior also ranked second in the BIG
EAST in scoring (21.7 ppg, 23.4 ppg BIG EAST play) and is tied ninth
nationally in scoring.
The senior leads the nation in minutes played, averaging 40.1 minutes.
He averaged 41.9 minutes per BIG EAST contest. Cotton could become the
first player in the nation to average more than 40 minutes per game
since Chris Quinn of Notre Dame achieved the feat
in 2005-06. This season Cotton established the Providence College
record for minutes played in a season at 1,244.
Cotton has scored 20 or more points in 23 of the 31 games he has played
this season, including a season-high 32 points versus St. John's on
February 4. He ranks fifth all-time in scoring at Providence (1,886
points).
Cotton is on pace to become just the fifth player from a major
conference to average 20 or more points and five or more assists in a
season since 2002. Cotton is averaging 21.7 ppg and 5.9 apg. The four
players that accomplished this since 2002 were Jason Williams
of Duke (21.3 ppg, 5.3 apg in 2001-02); Tyrese Rice of Boston College
(21.0ppg, 5.0 apg in 2007-08); Evan Turner of Ohio State (20.4 ppg, 6.0
apg in 2009-10) and Nolan Smith of Duke (20.6 ppg, 5.1 apg in 2010-11).
For the complete release please
click here.
ALL-DISTRICT I TEAM
Ike Azotam, Quinnipiac
Ryan Boatwright, Connecticut
Bryce Cotton, Providence
Alex Francis, Bryant
Olivier Hanlan, Boston College
Shabazz Napier, Connecticut
Clancy Rugg, Vermont
Wesley Saunders, Harvard
Maurice Watson, Boston U.
Chaz Williams, Massachusetts