PC's Mark Jankowski Signs With Calgary Flames, Tanev and Saracino Also Go Pro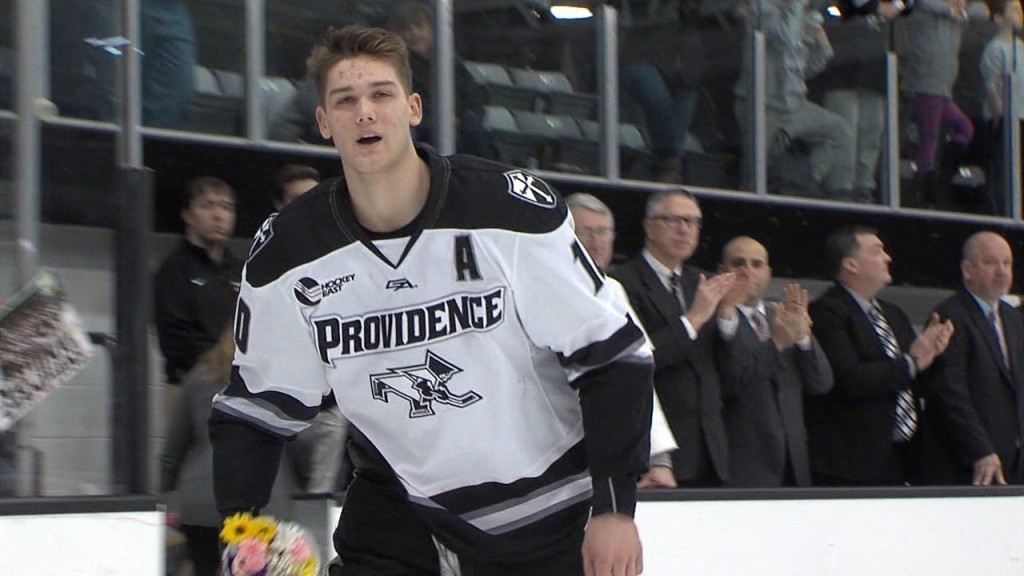 PC News Release…
PROVIDENCE, R.I. – A pair of Providence College men's hockey seniors inked NHL contracts on Wednesday (March 30).
Senior center Mark Jankowski has inked an entry level contract with the Calgary Flames as announced by the team on Wednesday. Jankowski will report to Stockton (AHL) for the remainder of the season on an Amateur Try-out Agreement (ATO) before his contract kicks in for the 2016-17 season.
A first round draft pick of the Flames in 2012 (21st overall), Jankowski concluded his four-year career at Providence with 43 goals and 67 assists in 148 games with the Friars. He became the first Friar since 2002-03 to reach the 40-point mark in a season, as he led Providence in scoring in 2015-16 with 15 goals and 25 assists. Those totals along with a +24 rating were all career highs for the Dundas, Ontario native.
In Hockey East contests this year, Jankowski racked up 11 goals and 15 assists in 22 games, becoming a First Team Hockey East All-Star in the process. He earned Hockey East Player of the Week honors for the first time in his career on Nov. 23 after notching three goals and an assist in a weekend sweep over Northeastern, including the game-winning strikes in both games.
Brandon Tanev (Toronto, Ontario) signed a one-year, two-way deal with the Winnipeg Jets prorated for the remainder of the 2015-16 season as announced by Jets General Manager Kevin Cheveldayoff.
Tanev tied for the team lead in goals this season with 15 and posted career highs in goals and points (28) for the Friars in 2015-16. He also led Hockey East with five game-winning goals this season and ranked third on the team with a +20 rating.
The speedy winger notched the game-winning goal in the 2015 National Championship game versus Boston University, lifting Friars to their first ever NCAA title. Overall, Tanev has 35 goals and 42 assists in 149 career games.
His older brother, Chris, is a defenseman for the Vancouver Canucks.
Nick Saracino signed an ATO with the Iowa Wild of the AHL, the minor league team in the Minnesota organization.