Pearce Homers Three Times, Red Sox Rally From Early Deficit To Beat Yankees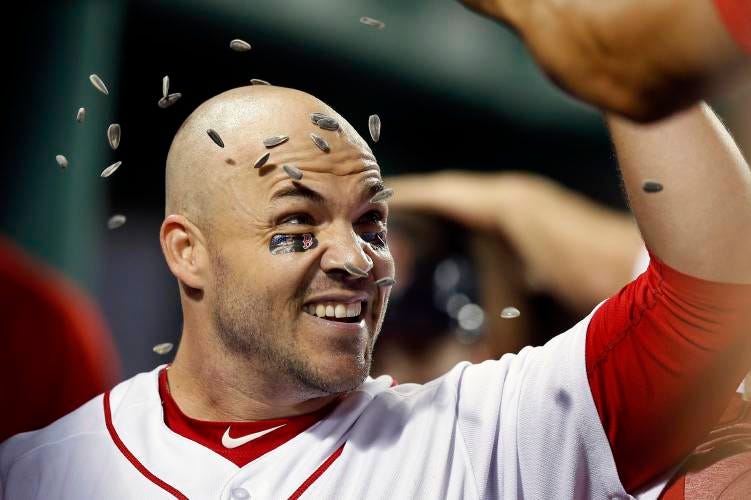 By JIMMY GOLEN
AP Sports Writer
BOSTON (AP) – Steve Pearce homered three times, the second a three-run drive in an eight-run fourth inning as the Boston Red Sox rallied from an early deficit to beat the New York Yankees 15-7 on Thursday night and take a season-high 6-game lead in the AL East.
In the opener of a four-game series that gave New York the potential to erase most of its division deficit, the Red Sox instead opened a bigger gap, taking advantage of manager Aaron Boone's decision to pull starter CC Sabathia after three innings with a 4-2 lead. Jonathan Holder (1-2) faced seven batters and did not record an out.
Mookie Betts had four hits and two walks, reaching safely all six times he came to the plate. Pearce, J.D. Martinez, Ian Kinsler and Andrew Benintendi had three hits apiece for Boston, which has won five of its last six games and 20 of its last 25 to match a season-high 42 games above .500.
Didi Grigorius homered twice, Aaron Hicks hit one and Giancarlo Stanton got his 25th of the season for the Yankees, who have lost just twice in the past week but dropped two games in the division. The rivals will meet nine more times, including the final three games of the season.
Brian Johnson, making a spot start because AL ERA and strikeout leader Chris Sale went on the disabled list, fanned a career-high 11 for his first victory since April 2. He allowed five runs, four earned, six hits and two walks in five innings.
Johnson (2-3) spotted the Yankees a 4-0 lead, but the Red Sox got one in the second and one in the third before surging ahead in the fourth.
With runners on second and third and nobody out, Benintendi hit a chopper back to the mound. Holder threw behind Jackie Bradley Jr., who broke for home and beat the throw to the plate with a head-first slide.
Pearce homered for a 6-4 lead, Martinez doubled and scored on Kinsler's single and then, after Kinsler stole second, Eduardo Nunez doubled to make it 8-4 and chase Holder. Chad Green got the next two batters before Bradley doubled in another run, Betts singled and Benintendi added an RBI single.
Luis Cessa replaced Green and got Pearce on a ground ball to end the 13-batter, seven-hit (five for extra bases), 46-minute inning.
Pearce, who homered in the third, did it again in the three-run sixth, when Boston took a 14-5 lead. The Fenway crowd booed when he was walked in the eighth on five pitches.
TRAINER'S ROOM
Yankees: RHP Sonny Gray will be replaced in the rotation and new RHP Lance Lynn, acquired from Minnesota this week. .. LHP J.A. Happ was put on the 10-day DL with hand, foot and mouth disease. He was expected to start on Saturday, then tentatively replaced in the rotation by Cessa, who instead was needed out of the bullpen in the series opener. RHP Chance Adams started Monday at Triple-A Scranton/Wilkes-Barre and could make his major league debut.
Red Sox: SS Xander Bogaerts, who was hit on the hand by a pitch on Tuesday, got the day off. Manager Alex Cora said he is on track to play Friday. … C Blake Swihart was removed from the game after six innings with left hamstring tightness.
UP NEXT
Yankees: Luis Severino (14-4) has allowed 19 runs in his last 19 1/3 innings over four starts, never making it out of the fifth. But he has won two of them.
Red Sox: Rick Porcello (4-4) is 5-1 over his last six starts but has a 5.85 ERA.
___
More AP baseball: https://apnews.com/MLBbaseball
AP-WF-08-03-18 0245GMT