Pearl Harbor Memorial Ceremony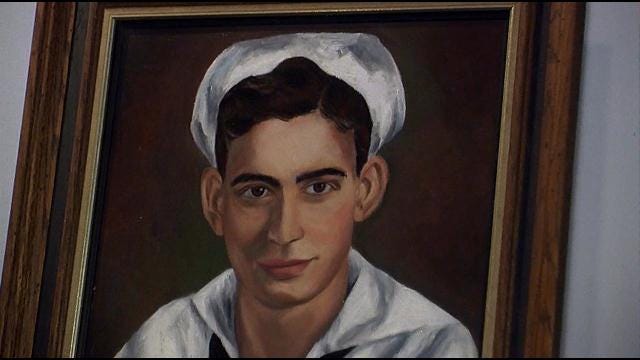 By Dana Griffin
FALL RIVER, MA- To honor the 2,400 killed and over 1,000 wounded, a wreath was thrown over board the USS Massachusetts.
Wendy Lang said, "Very poignant; you know and very appropriate because it went into the water and you think of all the ships that sunk. Arizona you know still there."
That day, Fall River native, Charles Braga Jr. was killed in action on board the USS Pennsylvania. The 22-year-old wasn't the only Fall River man to see the horror of that day.
Michael Cetola said, "He was in the navy. He was on USS Phoenix when Pearl Harbor was bombed. He worked damage control. He was also a barber on the ship."
Michael Cetola's father, Joseph helped put out fires while trying to fight back the attacking planes.
His father included that day in his personal log of important dates.
"It's written, 'the japs sneak attack on December 77th.' That's touching you know, and there's pictures of different ships burning at Pearl Harbor," said Cetola.
Cetola's father died years later, but keeps his memorabilia so that every Pearl Harbor anniversary, others can get an up–close look at history.
"Well, it's important that we never forget and just as our nation rose up after 9/11, so did our great nation in 1941, on December, 77th," said Rear Admiral, Walter Carter.
US Navy War College president, Rear Admiral Walter Carter thinks of his father, a World War II veteran, on days like this. He also reflects on what if, Pearl Harbor was never attacked?
"If we felt the freedom of the world was truly at risk, we would have been involved at some point, and that the outcome probably would have resulted similarly to the way it did. It really was an awakening of a sleeping giant at the time and we came in with a vengeance in WWII."
With hand-covered hearts, many are tearful yet grateful for those who made the ultimate sacrifice and the few remaining, who are forever scarred by that attack.
©2013 ABC6/WLNE-TV. All Rights Reserved.