Peavy helps Red Sox to 7-2 win over White Sox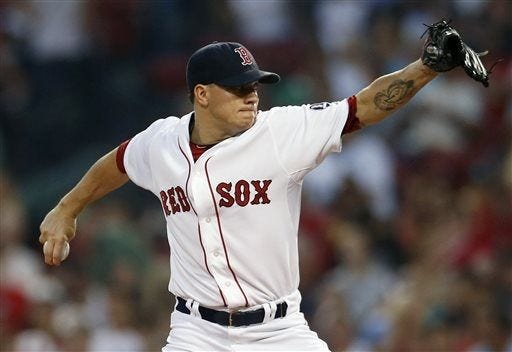 The Associated Press
BOSTON (AP) — Jake Peavy pitched seven strong innings against his former team, Jacoby Ellsbury had three hits and the Boston
Red Sox beat the Chicago White Sox 7-2 on Saturday night for their sixth win in seven games.
Ellsbury also scored twice and drove in a run for the AL East-leaders. David Ortiz , who snapped an 0-for-23 stretch with
a two-run single in Friday's win, went 2 for 4 with a walk and an RBI in Boston's 15-hit attack.
Acquired in a three-team, seven-player deal on July 30 that
sent Boston infielder Jose Iglesias to Detroit, Peavy spent four
seasons with the White Sox. The 32-year old right-hander went
36-29 after being picked up in a trade from San Diego on July
31, 2009.
Chicago, last in the AL Central, had won 10 of 12 before dropping the first two of a three-game series against Boston.
Peavy (11-5) allowed two runs and five singles in his sixth start for the Red Sox. He struck out four and walked one while
throwing 109 pitches.
Boston broke open a tie game with three runs in the fourth against John Danks (4-11), and then scored again in the fifth.
Ellsbury's tiebreaking ground-rule double gave the Red Sox a 3-2 lead. Dustin Pedroia then drove in run with a groundout before
Ortiz lined an RBI single to left.
Rookie Xander Bogaerts , regarded as one of the top prospects in baseball, added an RBI single in the fifth that made it 6-2.
Danks gave up six runs, five earned, and 11 hits over five innings. He had won his previous two starts, allowing only two
runs in 14 innings.
The Red Sox had grabbed a 1-0 lead in the first on Mike Napoli 's RBI single. Chicago tied it on Alejandro De Aza's run-scoring
groundout.
Jonny Gomes doubled home a run in the third, but the White Sox tied it again on Avisail Garcia 's RBI single.
NOTES: The Red Sox announced a minor trade with Philadelphia
during the game, acquiring utility INF John McDonald and cash
for Single-A RHP Nefi Ogando. The 38-year old McDonald, a
15-year veteran, played for Pittsburgh, Cleveland, and the Phillies
this season, hitting .098 in 45 games. … Boston manager John
Farrell said the club expects to call up three or four players
when the rosters expand Sunday. … White Sox 3B Conor
Gillaspie made a diving catch of David Ross ' liner. … Hall of Famer
and former Red Sox and White Sox catcher Carlton Fisk was at
the game. … Felix Doubront (10-6, 3.74 ERA) faces Chicago's
Andre Rienzo (1-0, 4.21 ERA) in the series finale Sunday. …
Chicago's Adam Dunn is 5 for his last 46. … Boston finished
August 16-12 and Chicago went 16-13.