Pedestrian Fatalities Up In Rhode Island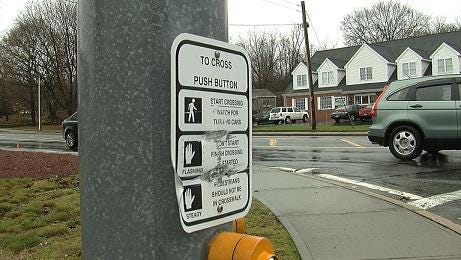 Walking on roads in Rhode Island and Massachusetts, even in crosswalks or on sidewalks, has been dangerous. The number of people hit by cars is up this year. In just the last month, six people were run down, three were killed.
Every day in the U.S., thirteen people walking along the side of the road are hit and killed by a car. The reason, according to The Rhode Island Department of Transportation, is you and me.
A cross marks the spot where a Cumberland woman's walk turned deadly on Mendon Road. Eric Rodevitz says he'll never forget that morning in June that claimed 54-year-old Kathleen Carpenter's life.
Rodevitz says, "I heard screeching of the brakes and I was concerned, and then I heard a lady screaming oh my god, oh my god."
The accident happened right out front of Rodevitz's house.
He says, "It's scary you know, it really is scary and there's just not too much you can do about it either."
There is something we can do though, according to Robert Rocchio, a traffic engineer at the Rhode Island Department of Transportation.
Rocchio says, "it seems very safe and innocuous to walk along the roadway, to drive along the roadway with pedestrians, but it really is not; the consequences can be fatal."
And they have, thirteen people in Rhode Island have already died this year, that's up from nine last year. The reason, Rocchio says, is distraction for drivers and the people walking.
"All it takes is a second having your eyes off the road for something to happen," says Rocchio.
The best advice Rocchio can offer is that drivers and walkers should never assume they're visible. Also, to avoid walking in the dark. If you do, he suggests wearing reflective clothing or bright colors.
Starting tomorrow, state and local police will begin working with traffic safety experts to figure out what areas are the most accident prone and come up with solutions to improve safety in those spots.