Pedroia bats four times in PawSox loss at Rochester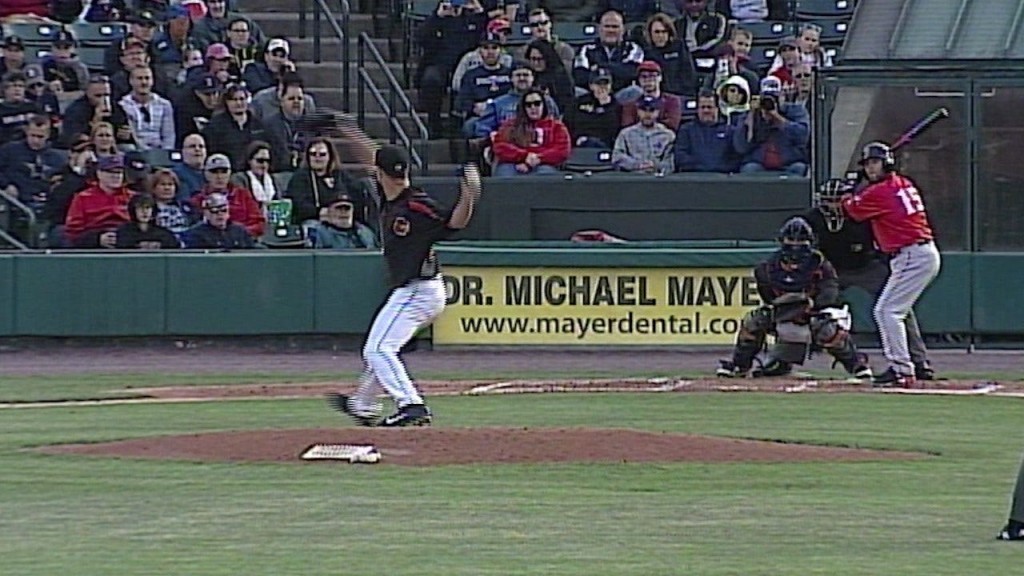 PawSox news release…
ROCHESTER, N.Y. — Dustin Pedroia, Tyler Thornburg and Austin Maddox all flashed in their rehab assignments, but the Pawtucket Red Sox were held in check by the Rochester Red Wings in a 2-0 loss Friday night at Frontier Field.
As he continues to recover from offseason knee surgery, Pedroia played in his second game on his rehab assignment and served as the designated hitter in the two-hole in the order. The two-time World Series champion walked twice and struck out twice in his four plate appearances, seeing a total of 22 pitches over the course of the evening. In his first rehab game Monday, Pedroia went 1-for-3 with a single and played five innings at second base.
Maddox, who impressed across four MLB stints last season and made Boston's postseason roster, made his first rehab appearance on the road back from a right shoulder strain. Maddox dealt a scoreless seventh inning in which he set down the first two batters he faced, including one on a strikeout with his slider, allowed a single and got a lineout to left. The former Florida Gator threw 10 of his 16 pitches for strikes.
In his seventh overall rehab outing between Pawtucket and Double-A Portland, Thornburg followed Maddox in the eighth and spun a scoreless inning of his own, ceding a one-out single but responding with a strikeout (on a knee-high fastball spotted away) and lineout to right field. Fifteen of Thornburg's 19 pitches were strikes.
Offensively, however, the PawSox (17-20) only generated four hits and were shut out for the seventh time this season. Rochester (19-16) scored in the third and fourth innings to secure the opener of the three-game series.
Pawtucket starter Chandler Shepherd (L, 2-3) turned in a third straight sharp start by logging six innings in which he allowed just one earned run (two total), walked only one and struck out a trio of Red Wings. Over his last three outings totaling 18 innings, Shepherd has given up just two earned runs. The 25-year old right-hander from Kentucky allowed at least three runs in each of his first four outings after making the transition in the offseason from reliever to starter.
For the second time in as many starts against the PawSox, Rochester starter Stephen Gonsalves (W, 3-1) dazzled, punching out 11 across 5.1 shutout innings. The big southpaw struck out the side in order in both the second and fourth innings and struck out the side in the fifth, as well, despite loading the bases. Right-hander John Curtis (S, 3) struck out three in a pair of hitless frames.
Pedroia worked a two-out walk to load the bases in the top of the third inning, but Gonsalves responded by collecting his fifth strikeout to end the threat. When Pedroia again walked in the fifth to clog the bases, Gonsalves again answered with a strikeout — his 10th — to get out of the inning.
In the home half of the third, Rochester climbed in front, 1-0, when right fielder Jake Cave ripped an RBI single to score center fielder Zack Granite, who had reached on a Pawtucket error.
Rochester doubled its lead to 2-0 in the fourth when catcher Willians Astudillo laced a solo homer down the left-field line.
The PawSox continue the weekend series in Rochester on Saturday at 7:05 p.m. Pawtucket right-hander Justin Haley (1-4, 3.74) is scheduled to start opposite Red Wings righty Myles Jaye (2-2, 5.22). Radio coverage on WHJJ (920 AM and 104.7 FM) and throughout the PawSox Radio Network begins with PawSox Insider at 5:35 p.m.
The PawSox will finally return home to McCoy Stadium for an extended homestand May 21-28 (Monday-Monday).