Penn Tops Brown Lacrosse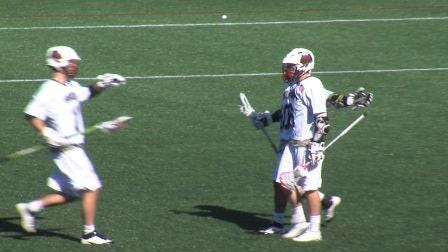 Brown Release
Providence, R.I – Penn goalie Brian Feeney made 15 saves, several
from point-blank range, to lead the Quakers to a 10-3 Ivy League win
over Brown, sending the Bears to their third straight loss. Brown falls
to 5-4 overall, 1-2 in the Ivy League, while Penn advances to 6-3
overall, 2-2 in Ivy play.
Issac Bock opened the scoring for the Quakers with 8:55 left in the first quarter, but Brown sophomore Nick Piroli (Black River, NY) got Brown on the scoreboard just 35 seconds later on a pass from sophomore Nick Weeden (Broad Run, VA) to knot the score, 1-1.
The Bears were held scoreless for the remainder of the half as Penn
built a 6-1 lead at intermission. Bock's first half hat-trick led the
Quakers.
Penn's 10-1 face-off advantage in the opening 30 minutes stifled any Brown comeback attempt.
Bears' freshman Henry Blynn (Villanova, PA) scored an unassisted goal in the first 31 seconds of the second half and junior Sam Hurster (St. Louis, MO) scored on a pass from senior George Sherman
(Greenwich, CT) with 5:46 left in the quarter to get Brown back in the
game, trailing 6-3. But Penn's defense stiffened once again, holding the
Bears scoreless for the game's final 20:46, while collecting four
unanswered goals.
Freshman Jack Kelly (West Islip, NY) opened the game in goal for Brown and made four saves in 40:40, while allowing seven goals. Junior Will Round (Mt. Lebanon, PA) played in relief, playing the last 19:20, making two saves and allowing two goals.
Feeney made eight of his saves in the second half as the Bears tried
to make a comeback. His brother, Danny, was dominant in the face-off x,
winning 14 of 18 face-offs and picking up eight ground balls.
Brown returned to action on Friday, April 12, traveling to New Haven, Conn., to battle Ivy rival Yale. Game time is 7:00 p.m.