Pension settlement deal approved by Judge Taft-Carter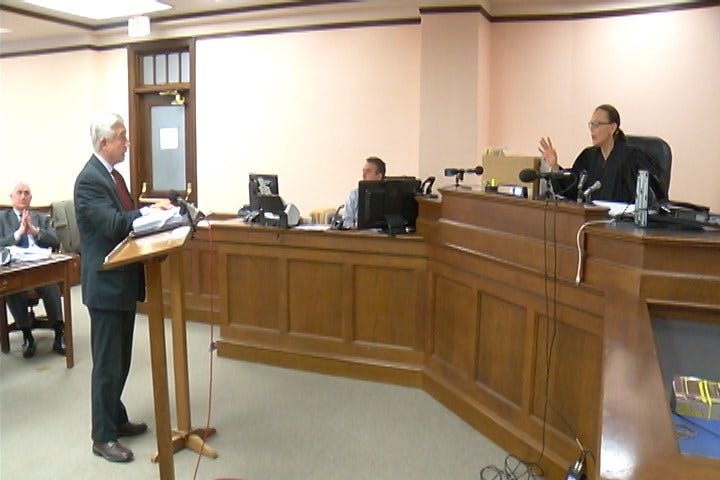 By News Staff
Reporting by Matt Blanchette and Rebecca Turco
news@abc6.com
A major announcement out of RI Supreme Court Thursday – a deal has been made in the pension settlement.
Former R.I. Supreme Court Chief Justice Frank Williams as Special Master presented his report to Superior Court Judge Sarah Taft-Carter, who accepted the deal.
All but 3 cases, representing about 800 Rhode Islanders, accepted. Police and fire department members from Cranston, as well as municipal police in the International Brotherhood of Police Officers, made up the two union groups that said "no". 59,000 Rhode Islanders are represented in the groups that voted "yes" to the settlement.
There will now be a 45-day implementation period to put the deal in place, which will end on May 15.
The deal now heads to the state house, and needs approval from leaders there. Governor Gina Raimondo, Speaker of the House Nick Mattiello and Senate Majority Leader Teresa Paiva-Weed were allowed to comment on the deal by Judge Sarah Taft-Carter, but could not discuss the details of the settlement.
There will be weekly status conferences to keep track of the progress, starting on April 13.
The former April 20 court date has been vacated. There will be a status conference on June 8, when they will decide whether to proceed to trial with the 2 remaining unresolved union groups. This is the beginning of the end of a years long battle after the state overhauled the pension system in 2011, cutting benefits for many in an effort to save billions of dollars.
Raimondo, Magaziner Statement on Proposed Pension Settlement
PROVIDENCE, R.I. – Governor Gina M. Raimondo and General Treasurer Seth Magaziner today released the following statements regarding the latest proposed pension settlement agreement.
If approved by the court and the General Assembly, the proposed pension settlement will end litigation from six challenges arising from changes made to the pension system in 2009, 2010 and 2011, and will keep the pension system on a healthy path. Unlike the situation in 2014 where all groups were required to sign on to the settlement, such a condition does not exist in the current scenario. The court will set a schedule for the parties to implement the settlement, and the remaining three lawsuits will be addressed by the Court. The April trial date will be vacated for the purpose of implementing the settlement.
Statement from Governor Gina M. Raimondo
"This proposed settlement is an important step toward providing certainty for our public employees and our cities and towns, and I believe it is in the best interest of all Rhode Islanders. The proposal keeps our state on a path toward financial stability. While the state has a strong case, the uncertainty of a trial threatened to reverse that progress. I am grateful the parties were able to come to an agreement. I look forward to working with the General Treasurer, the General Assembly, and all stakeholders to pass this legislation and then build on this progress by passing a balanced budget focused on creating jobs."
Statement from General Treasurer Seth Magaziner
"This proposed settlement lifts a cloud of uncertainty from our state and allows us to finally move forward, so we can focus our energy on new ideas to rebuild our economy. I am grateful to the settling parties in these lawsuits for being willing to come together to forge a common solution."
Below is a statement from President Paiva Weed:
President of the Senate M. Teresa Paiva Weed said, "I welcome the news that a potential settlement has been reached in the pension suit. I believe a settlement of pending litigation is in the best interest of all Rhode Islanders. It brings closure and finality for retirees and public employees and fiscal certainty to the state. I am grateful to the employees and to Chief Justice Williams for working together on this settlement proposal. I know this has been difficult for everyone involved. In the weeks ahead, the Senate Finance Committee and all the members of the Senate will be reviewing the proposed settlement and taking public testimony on the legislation required to implement the agreement."
© WLNE-TV 2015