People turned away at local boy's "Be The Match" drive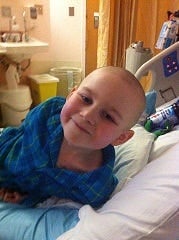 By: Alexandra Cowley
The turnout for a blood and bone marrow drive in support of
a Burrillville boy battling cancer
was so great, some people had to be turned away. 6–year–old Tyler Seddon is fighting Leukemia for the second time. His family hopes the overwhelming response at Tuesday's blood drive may
save his life.
"Its incredible, I've never seen a turnout like
this," said Rachel Seddon.
Seddon is in awe of the crowd that filled the Pascoag Fire Department to help her son.
"90 people on a bone marrow match is huge. Somebody, even if it's not for Tyler, who knows how many lives
we could save today,"said Seddon.
Seddon's 6-year-old son Tyler is battling Leukemia for the
2nd time in 3 years, but this time, he's not doing it alone.
"We processed over a 100. We did have to turn some people away, which isn't a bad
thing, it's been a great turn out here, it's very hopeful for the family," said Lauren Dettore of the Rhode Island Blood Center.
It's not just the people at the Pascoag Fire Department who are supporting Tyler. A Facebook page called Tyler's Troops has more than 16 thousand members from
all over the world. You see, Tyler wants to be a police officer or firefighter
when he grows up. Last week, Tyler's mom asked if first responders could send him cards for his 7th birthday. That simple request has grown into an international
kindness. Piles of gift packages with police and fire uniforms fill the Seddon's home. They've received boxes of letters and pictures as well.
Seddon is simply over whelmed.
"I have 400 emails, I still haven't answered, I'm working
on it," laughed Seddon.
While Tyler fights his battle in the hospital, local
officers have been planning the birthday of a lifetime for him. East Providence officer Craig Sroka is spearheading the
celebration. He says 200 patrol cars from all over the country are
traveling to Rhode Island for Tyler's birthday on March 6th.
Sroka said he's been getting calls and emails from all over the world. He can barely keep up with the all the people who want to help.
"Everybody is just reaching out to this kid because he
deserves it, he's fighting a big battle and we just want him to be successful
with it," said Craig.
The people who were turned away at Tuesday night's drive can go to any local blood drive and
donate for Tyler by using the group number 0260. It takes 4 to 6 weeks for the donors to be added to the be
the match registry, to see if they're a match.
(C) WLNE-TV 2014