Phallic snow sculpture forces families to cover children's eyes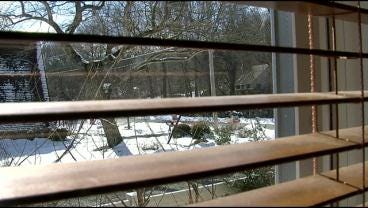 By: Melissa Toupin
Most days traffic cruises along Middlebridge road in South Kingstown. Thursday it was a different story as car after car stopped to take pictures of a 12 foot tall snow sculpture in the shape of a phallus that was built in front of a home.
"I'm sending it to all my friends in Boston and New York. They are going to be hysterical," said Kristen Mauro as she snapped a photo.
But not everyone's laughing. In fact some neighbors are down right angry about the sculpture.
"This is ridiculous. There are kids that come down this road. There are school buses. I don't see why someone would do something like this," said Ed Fish who lives down the street.
The controversial sculpture sits in front of a winding driveway right up against the road. We tried to talk to the homeowner, but no one came to the door.
Some neighbors don't know what to make of it.
"I wouldn't let my kids do it. Let's just leave it at that," said Bob Trager.
Others want the snow sculpture taken down.
"I don't think its proper for children to see it and if people want to do it they can do it in their back yards behind their house," said Fish.
South Kingstown Police have received complaints from several upset neighbors, but say their hands are tied. Since it's on private property they say this is a first amendment issue not a criminal matter.
ABC6 legal analyst Ken Schreiber tells us the real question is whether the 'sculpture' is being considered art. If a reasonable person can be offended by the image it doesn't matter whose property it's on.
Still some neighbors say it's not worth making a stink about since it's just a matter of time before it disappears on its own.
"Hopefully we'll have a few warm days, and it'll be melted and this will be over," said Trager.