Phase II of Aaron Thomas' "fat check" investigations has been released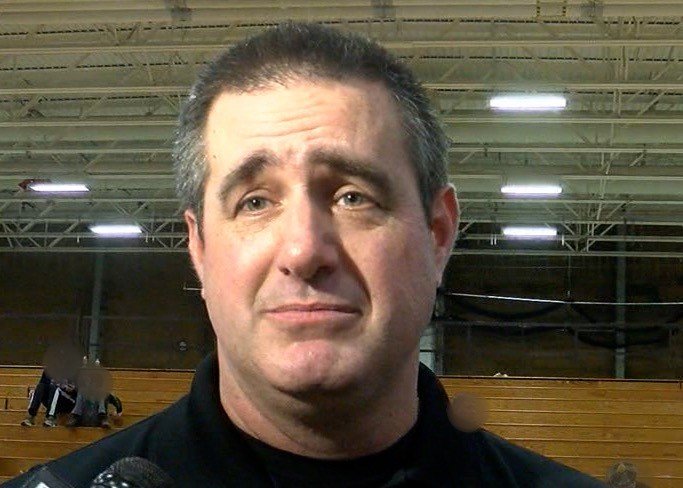 NORTH KINGSTOWN, R.I. (WLNE)- Phase II of the investigation by Matthew Oliverio into Aaron Thomas' fat checks and those who knew about the conduct has been released.
After several hours before a closed door session, the school committee announced the report would be released Monday evening.
Aaron Thomas, according to investigations, conducted "fat checks" on students while they were alone, and Phase II suggests other officials knew and turned a blind eye, or trusted Thomas too much to come to terms with what he was doing.
"Mr. Thomas was very clever and discreet in how he conducted this testing. However, I did find all interviewees to be credible when they emphasized that if they had suspected or known that Mr. Thomas was testing students alone, behind closed doors in a state of undress, they surely would have reported it to appropriate authorities. Yet, equally clear in my mind is that because of the level of trust and respect that all the work colleagues placed in Aaron Thomas, including close faculty and coaching associates, their blind allegiance to him allowed Mr. Thomas to evade scrutiny of his inappropriate conduct."
The report concludes that administrators did not know about the tests before June 2017.
"My investigation leads me to conclude that details of the concealed way Aaron Thomas conducted his fat testing protocol was not known to any current administrator until June 2017, at the earliest. This was by happenstance when Howie Hague stumbled upon Mr. Thomas in his office with another student. I also make this determination because those former students whom I did interview uniformly told me they did not disclose the testing protocol to their teachers, counselors, staff, coaches, administrators, or parents, with one exception. Any disclosure was later made only after Mr. Thomas' suspension in February 2021."
The investigation into whether administrators knew about the abuse came down to a group of people between two time periods June of 2017 and September of 2018.
"Those involved in the 2017 encounter and whose conduct needs to be scrutinized involve the following: Howard Hague, Denise Mancieri and Dick Fossa. Those administrators involved in the September 2018 encounter include Phil Auger, Dick Fossa, and Denise Mancieri."
According to the report, Mr. Hague found Thomas conducting one of his "fat tests" in 2017, believing the nature of the test was for the students privacy. Hague reported it to the principal promptly explaining that these tests should be conducted in groups. Hague explained that he handed over the situation to incoming athletic director Dick Fossa, although the principal denies the director's involvement. Dr. Mancieri, the principal, claims that Mr. Hague responded, "I've got it; I've got it" and assumed that Hague would deal with Thomas' actions. The investigations found that despite the discrepancies in the stories, Mr. Hague did not attempt to do anything to handle this situation.
"His justification for his limited involvement is that as a bargaining unit member and per the terms of his MOA as athletic director, he had no authority to discipline any faculty member under the terms of his MOA. Furthermore, given Mr. Thomas' purported unimpeachable character and total devotion and commitment to the school community, according to Mr. Hague and every other witness whom I interviewed, there was absolutely no reason to suspect that Mr. Thomas would engage in inappropriate conduct with any student."
Though Hague believed that once he told these actions to the principal it would be handled at a higher level, the investigation found that he still had some personal responsibility and duty under his job title to notice these red flags and report it further, but also explains the principals duty to do the same.
 "In other words, given the circumstances that presented themselves in June 2017, a duty to inquire and to investigate arose, despite Dr. Mancieri's belief that Aaron Thomas possessed the highest degree of moral character and commitment to the students of the School District. Even though she delegated to Mr. Hague the task of "addressing it with Mr. Thomas" by restricting the testing to athletic facilities in a group setting, there is absolutely no evidence that this or any other ameliorative measure was implemented or monitored by Dr. Mancieri. Even assuming that task was delegated to Mr. Fossa, the fat testing continued unabated in the same manner, and there is no document that has been uncovered between June 2017 and September 2018 that Aaron Thomas' conduct was ever monitored to ensure his testing protocols changed."

"Given the above-described circumstances, I also believe it would have been prudent for Dr. Mancieri to report her discussions about this encounter to the Superintendent to put him on
notice."
In 2018, Superintendent Auger knew about these "fat tests" and even held his own inquiry into the situation,
"In September 2018 Dr. Auger had information, at a minimum, (i) that a former student from the early to mid-2000's was fat tested in nothing more than a towel, in a private office with no other adults and reported that he was uncomfortable; and (ii) more recently, a current student was behind closed doors alone with Mr. Thomas with his tee shirt removed, as reported by Dr. Mancieri."

"These factors should have raised a reasonable suspicion that current students may be undergoing private fat testing administered outside of the athletic facilities by a person in a position of influence and authority over students ranging in age from 14-18. Dr. Auger did not consider these circumstances alone posed a risk of harm to the student body that required a report to DCYF, RIDE or the police. Rather, he did undertake a limited inquiry. The limited inquiry was meeting with Mr. Thomas, obtaining his account and assurances, and implementing a new protocol. No action was taken to speak directly with the students or to advise the students' parents of the change in protocol. Even though Mr. Thomas advised that he had consent forms and permission slips, leading Dr. Auger to believe that parents were fully informed of the mechanics of the testing protocol by Mr. Thomas, he did not review those forms. Had he, he would have determined that they contained scant information about the testing."
The report suggests the Superintendent had many more options to go towards when investigating Thomas, such as, speaking with student athletes, the basketball team, coaches, and trainers. Also, all consent forms should have been looked over and talked over with the parents.
The final name mentioned in the report was Dick Fossa, Athletic Director at the time of 2018 and the Superintendent's claims that Fossa was the one who was to keep an eye on Thomas' behavior.
"Dr. Auger admitted that he never monitored Mr. Thomas' conduct for compliance. Rather, he either delegated this task to his trusted athletic director, Dick Fossa, to do so, or assumed, wrongly, that the issue had been adequately addressed. As I mentioned earlier, Dr. Auger stated that a solution was in place, and he did not feel the need to speak about it again with Mr. Thomas. I found no evidence that Mr. Fossa monitored Mr. Thomas for compliance with the new protocol or even followed up with Mr. Thomas."

"I find it more troubling that the Superintendent, given what he knew at the time, never approached Mr. Thomas about the issue again until it broke open in February 2021."
The findings determined blame was to be placed throughout many levels.
"There is no evidence of oversight by anyone in authority and that overall responsibility must lie with the Superintendent, consistent with his statutorily imposed responsibilities. My investigation also leads me to conclude that the athletic department at the high school level acts independent of and siloed from direct management and oversight by the principal and Superintendent, instead relying on the athletic director alone."
The report made no suggestions on any action taken upon the individuals mentioned above, or any possible officials who might have known. Instead it offers changes that should be made within the school, the school committee, investigation procedures, policies, training, child abuse and sexual abuse educational programs.
You can read the entire 258-page report here.