Pick of the Litter: Meet Jalilah!
Pick of the Litter: Meet Jalilah!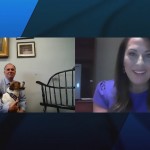 This young gal is the cutest, wiggliest girl on the planet! She never sits still!
At a year old, she loves walks, doing zoomies and playing ball. She also will do anything for a treat! She is good with kids (5+), and seems to be curious of other dogs. Not sure how she feels about cats.
If it's an active, ready-to-go buddy you are looking for, Jalilah is your girl! Interested in adopting? Great! You are welcome to visit the RISPCA, fill out an application at Jalilah – Rhode Island SPCA (rispca.com) or email us at adoption@rispca.com with any questions.