PICK SIX Thanksgiving Special with Highlights from Rhode Island and Massachusetts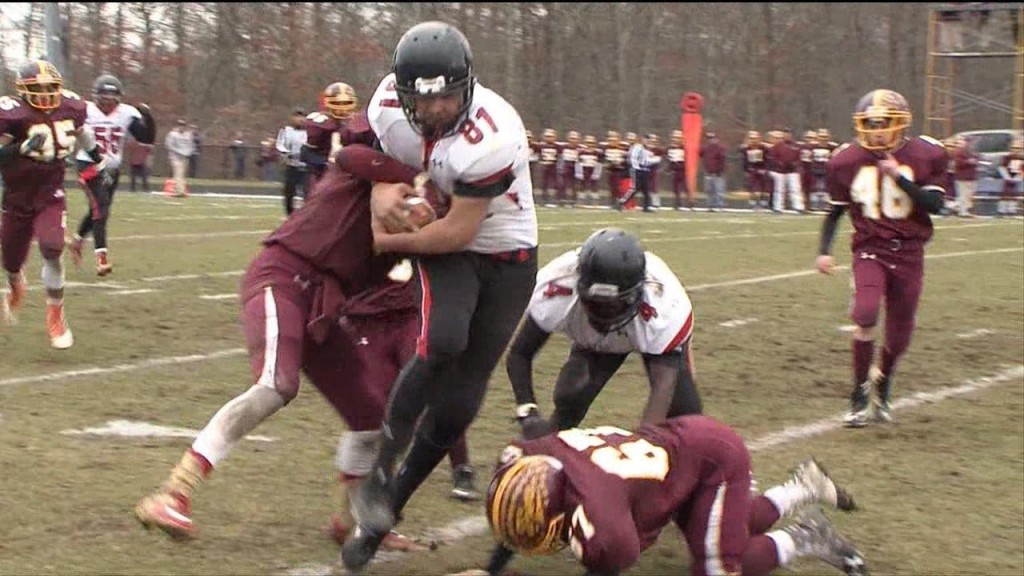 By Ken Bell
kbell@abc6.com
Thanksgiving Day was filled with great high school football rivalries, all part of our Pick Six!
Durfee scored with a minute to play to beat New Bedford, 32 to 26. The Hilltoppers win the game for the first time since 2007.
North Attleboro ends the season with a big 41 to 13 win over rival Attleboro.
Westerly could no get into the end zone in a 14-0 loss to rival Stonington.
Cranston East won bragging right in town by beating rival Cranston West, 49 to 10. Justin Neary scored 6 touchdowns.
North Kingstown beat rival South Kingstown for the first time four years, 24 to 8.
Portsmouth won a scoring-fest against rival Middletown, 57 to 35.
LaSalle held off East Providence, 35 to 32.
Bristol edged Barrington, 20 to 19.
Cumberland rallied to beat Woonsocket, 34 to 28.
Tolman defeated rival Shea, 12 to 10.
West Warwick rallied to beat neighbor Coventry, 32 to 28.
Tiverton overcame Rogers, 20 to 13.
Burrillville beat rival Ponaganset, 29 to 16.
Toll Gate won its first Thanksgiving Day game since 1991, beating Pilgrim 27 to 22. The Titans played the Patriots for the first time after facing Hendricken in the past. Anthony Vann ran for three touchdowns and passed for another.
Smithfield won at North Providence, 31 to 14.
East Greenwich scored a 41 to 6 win over Exeter-West Greenwich.