Pig breeder defends emotional support pet kicked off plane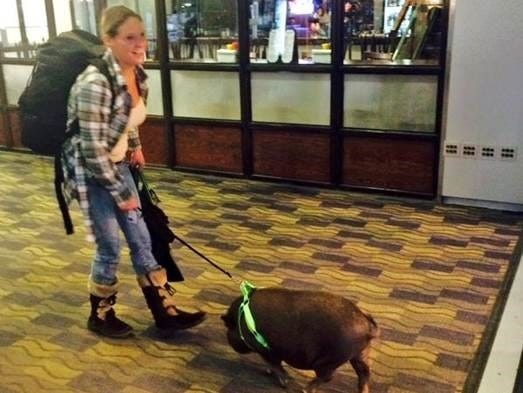 Nicole Brazier
@NicoleBrazierTV
nbrazier@abc6.com
HOPKINTON – The day before Thanksgiving, Rachel Boerner of CT tried to board a plane to visit her family in South Carolina. She boarded, with full approval from US Airways, with her pet pig, Hobey, who she calls an Emotional Support Pet.
But the duo were kicked off the plane after officials say the pig became unruly.
Hobey was sold to her from My Pet Piggy in Hopkinton, by Victor Kinoian, who says Emotional Support Pets play an important role in their owners' lives.
"It's a pet that really kind of helps you, something that you bond to, I know for some people that are unable to have kids, the pig really fills a void for them," he said.
Kinoian says that Boerner wasn't properly accommodated on-board. She was given a seat at the back of the plane, in between several other passengers, and none were made aware that she was boarding with a pig… even though she'd been cleared with plenty of notice.
"I do feel like they definitely set her up to be embarrassed and to really go through just a really horrible ordeal, I mean she missed the Thanksgiving holiday with her family, the emotional stress on her and her animal, very, very unfair," he said.
Boerner has yet to speak publicly on the matter. There's rumor of a potential lawsuit coming in the near future.
(c) WLNE-TV 2014