UPDATE: Suspect in custody after pipe bomb found in Woonsocket housing complex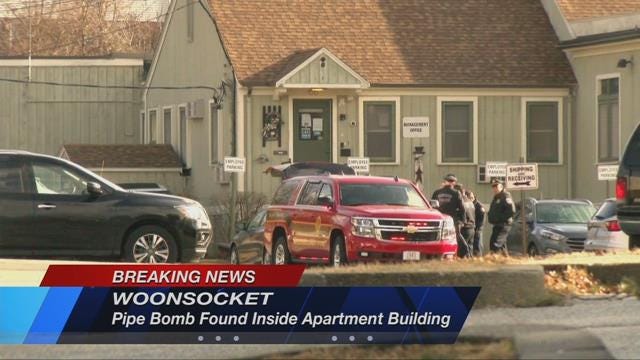 By Jordan Mazza
Email: news@abc6.com
Twitter: @ABC6
WOONSOCKET, R.I. (WLNE) – Frightening moments for residents of the Morin Heights apartment complex evacuated for a pipe bomb found inside an apartment around 9 AM.
"I'm like, 'Can I get dressed?'" said resident Tracy Rojee, recalling the moment she was told to evacuate. "And they're like, 'Get what you have to and just get out.'"
Police say Woonsocket Housing Authority employees entered the apartment belonging to 22–year–old Jan Carlos Martinez–Lopez, who was scheduled to be evicted tomorrow.
He had already moved out, but inside a closet was the pipe bomb.
"I was scared, I was shocked," said neighbor Angel Roman. "I'd never think that would happen here."
Woonsocket Police secured the area, evacuating 50 people from multiple buildings, and the Rhode Island bomb squad arrived to safely dispose of the device.
"Certainly any type of a pipe bomb, even that size, four or five inches would do quite a bit of damage, especially in a confined room or to anyone in the room," said Chief Thomas Oates of the Woonsocket Police.
Martinez–Lopez turned himself into police this afternoon, and facing a felony charge of having an explosive device.
His immediate next–door neighbor, Becky Alstrom, says she was friendly with him.
"It's kind of scary to think the person right next door could do something like that," she said. "Putting other people's lives in danger is wrong."
Martinez–Lopez could face up to 20 years in prison.
©WLNE-TV/ABC6 2019