Pit Bulls rescued in drug raid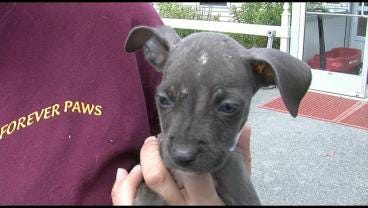 By Liz Tufts
New Bedford police surrounded this Pleasant Street apartment Monday night looking for drugs. Instead they stumbled across something else.
This little guy's name is Dumbo. He and 6 of his brothers and sisters were found inside a cabinet drawer with no food or water.
"They were just really skinny it's sad," says Carly Williams.
Williams lives across the street and knows their owner 25 year old Christopher Fuhs.
She says the animals got to be too much for him to handle; the mother of the puppies just recently gave birth to another litter.
She needed to be fixed but that costs money and some people just can't afford it.
But police say that's no excuse.
They arrested Fuhs and charged him with 7 counts of animal cruelty as well as possession of marijuana.
If it weren't for the raid they say these puppies wouldn't have survived.
They were lethargic and weren't doing great. They were extremely under weight.
The pups are now in the care of professionals at the forever paws shelter in Fall River where a little TLC is going a long way.
"I don't understand how people can be the way they can but we will take care of them and love them and give them what they need," she says.