Plant mystery in Rocky Point neighborhood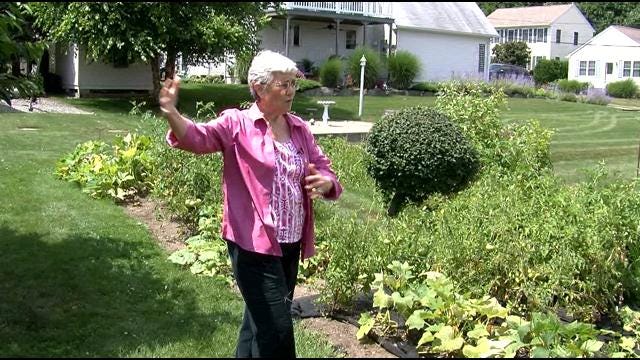 By: Alexandra Cowley
Residents in the Rocky Point neighborhood of Warwick are trying to figure out what killed some of their plants. Some are even wondering if it's more than just a coincidence that the plants died, not long after demolition started at the old amusement park. More than a handful of residents tell ABC 6 News the area was engulfed with a strong smell of bleach just before their gardens wilted, some turned black.
Warwick resident Judy Azar says something happened at the beginning of this month, that she believes attacked her plants.
"When we first smelled it, we didn't know it was and it went away quickly," Azar explained.
Azar says a strong smell of bleach or chlorine swept the area just hours before.
"Very strong bleach enough to make me dizzy when I went to close the door," she explained.
Azar says her basil plant turned black later that day and much of her vegetation died.
"I didn't know what in the world had happened and It was devastating," she said.
Azar wasn't the only homeowner affected. We spoke to at least 6 others who described the same strong smell just hours before their plants turned. One neighbor wished to remain anonymous, but says she fears for her children.
"I have two small children and I'm concerned about them playing in the yard that if it were to happen again if it were in the grass or something," the mother said.
The incident happened just after demolition at Rocky Point began, so neighbors started to wonder if the smell came from the site just down the street.
Azar explained, "It seemed to be coming from Rocky Point, because it came straight down Burnett into this direction. It was a very narrow corridor and the prevailing wind was from Rocky Point."
We reached out to the Department of Environmental Management which told us they investigated the complaints from neighbors and say there was no evidence of any use of chemicals on site, no chlorine or bleach.
DEM wouldn't speculate about whether anything was hit underground during construction to release that odor. They assured ABC 6 News contractors haven't used those types of chemicals.
The results are frustrating for residents who are hoping for answers to this mystery that swept their community.
"We don't know why it happened, we can't know that it wont happen again, so it's a little disturbing," shrugged Azar.
Because it happened weeks ago and hasn't happened again, DEM says finding the cause is extremely tough. They did, however, take a sample of the dead plants and believe it may be the result of the Winter Moth.
DEM suggests concerned homeowners contact URI's Department of Plant Sciences.
(C) WLNE-TV 2014