Playhouses being built for sick kids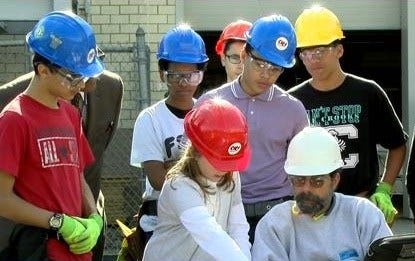 By: Melissa Randall
@MRandallABC6
Every kid dreams of having a play house. It's a space where they can let their imagination run wild. Ava Milukas, 8, of Tiverton is helping to create such a retreat for seriously ill children.
"She's a happy healthy kid giving back to her peers. I think it's even more important to do that," said tom McGovern, Executive Director of 'A Wish Come True'.
Ava is working on the project with the charity. Several playhouses are being built. Two of them will be donated to 'Wish' children in the spring, but not the one Ava is designing. Instead, hers will be raffled off. The money raised from the sale of the playhouse will then go back to 'A Wish Come True' helping to grant more wishes for more kids.
On Tuesday Ava met with the builders to help get the creative juices flowing. Ava came ready with plenty of ideas, so naturally they had a lot to discuss.
"Like what the colors should be. What the inside should look like. How the door should be and how the windows are designed," Ava explained.
The project is being organized by students from Bryant University. A class Davies Career and Technical School in Lincoln will bring Ava's dream play house to life.
"It's amazing that I'm a part of something is actually going to somebody sick or somebody in need," said Jonathan Chase.
In an effort to jump start the fundraising efforts Ava donated $700 to the charity. She raised the money by selling copies of her book: 'Ava's guide to having a perfect life.'
Anyone willing to make a contribution to support 'Project Playhouse' can do so, here.
© WLNE-TV 2015