Police arrest 3 after state trooper dragged by fleeing car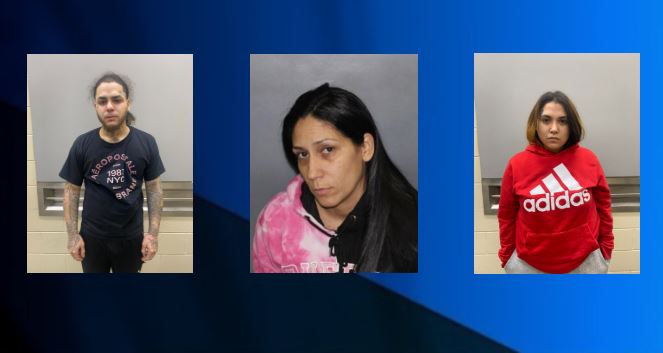 FALL RIVER, Mass. (WLNE) — Massachusetts State Police said Tuesday a trooper was dragged by a car after conducting a motor vehicle stop in Fall River.
The incident happened at about 12:30 a.m. at Pleasant at 17th streets. Police said the trooper pulled over a black Honda Accord for a motor vehicle violation.
Police said the driver, Keysh Resto Alejandro, of New Bedford, stated she did not have a license and the Honda belonged to someone else.
The trooper said they were going to tow the Honda and told Alejandro and the passenger, identified as Steven Melendez, 22, to call someone to pick them up.
While the trooper was calling for the tow truck, they said Maria Melendez Rivera, 44, arrived to the scene in a silver Hyundai.
The trooper confirmed she was the registered owner of the Honda he had stopped.
Police also confirmed Steven Melendez had three outstanding warrants out of New Bedford District Court, one in connection to a shooting.
When the trooper attempted to take him into custody, authorities said Steven broke free and got into the Hyundai.
Officials said Rivera, Melendez and Alejandro were all in the car when the trooper tried to remove Steven Melendez.
The trooper said Melendez resisted and Maria Rivera, who was in the driver's seat, tried to flee the scene and drive off.
Authorities said the trooper was dragged about a block before he fell to the pavement.
Police said the trooper was evaluated and treated at St. Luke's Hospital. He was discharged and returned to his shift around 4 a.m.
Massachusetts State Police said they issued warrants for both Maria Melendez Rivera and Steven Melendez. A subsequent warrant was obtained for Alejandro, the woman driving the uninsured Honda.
Police later confirmed they arrested all three suspects on Tuesday. All three were issued various charges as follows:
Maria Melendez Rivera
Assault and battery with a dangerous weapon
Assault and battery on a police officer
Failure to stop for police
Negligent operation of  a motor vehicle
Malicious destruction of property
Speeding
Steven Melendez
Previous motor vehicle offenses
Previous vandalism charges
Previous firearm and assault charges
Keysh Resto Alejandro
Accessory after-the-fact
Interfering with a police officer
Police said Steven Mendez was arrested in Warwick by Rhode Island State Police. The trooper who was dragged at the scene was there for the arrest.