Man in critical condition after shootout with police in Warwick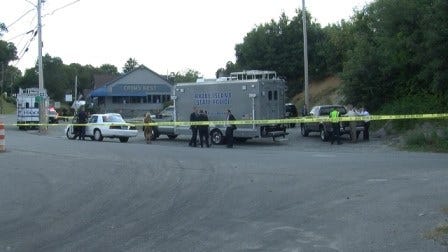 By: Dee DeQuattro
Email: ddequattro@abc6.com
Twitter: @deedequattro
UPDATE: Police have identified the suspect as Kenneth Cunningham.
Warwick Police are currently investigating an officer involved shooting in Apponaug.
Around 12:30 p.m. on Monday, Warwick Police officers witnessed a suspicious vehicle in the area of Oakland Beach. Police pursued the vehicle and attempted to stop the individual. The vehicle continued to travel. Police ended up cornering the suspect and the suspect then rammed one of the police vehicles with his own vehicle and flashed a gun.
"We could all hear the gun shots from inside didn't know what was going on until that kinda started then all the cops showed up after that," said Cayla Johnson, employee at Crow's Nest Restaurant.
"Everyone started running toward the windows to see what was going on and I walked over and I saw a police officer with his gun aiming upwards and I hear a dull popping noise," said Andrea Giem, employee at Crow's Nest Restaurant.
The suspect then attempted to flee from his vehicle on foot. He ran to the area of Arnold Neck Drive near the trestles and opened fire on the police officers pursuing him. The officers returned fire striking the suspect. The suspect was transported to Rhode Island Hospital where he is currently in critical condition.
Police say that the individual had nine active arrest warrants out for him and one arrest warrant from California on a parole violation.
State Police and the Attorney General are currently investigating the matter.
"What could have been a real disaster ended up being okay for the city," said Warwick Mayor Scott Avedisian.
(C) WLNE-TV 2014