Thieves steal over $5000 worth of equipment from store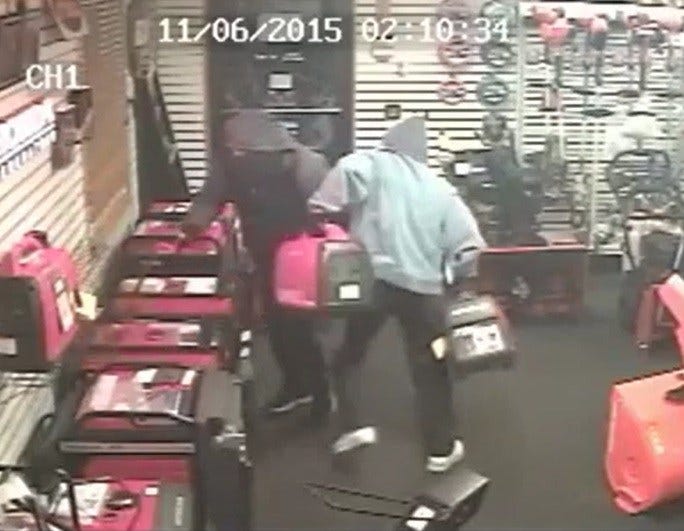 By Kirsten Glavin
kglavin@abc6.com
Thieves broke into a business in Cranston twice last Friday, stealing thousands of dollars worth of equipment.
The owner of American Lawnmower Services on Dyer Avenue tells ABC6 he's never had anything like this happen to him in the 30 years he's owed the store. Thankfully, the lights were left on overnight and surveillance cameras were able to catch the whole burglary on camera.
Owner, Peter Ryan, says that around 1 a.m. that Friday, windows the of the business were busted in.
"The first time they came in here, they were in and out in ten seconds," says Ryan.
Because the thieves came in through the broken glass in the door, the alarm system never went off. However, surveillance caught the two masked men helping themselves to five thousand dollars worth of lawn equipment–not once, but twice.
During the first break-in, the men went strait for three Honda generators. Two hours later, they came back, grabbing backpack blowers and a hedge trimmer. Based on how quickly the thieves first grabbed the equipment, Ryan thinks they have been to his store before.
Police are currently investigating the break-in.
"We're hoping there's something about their mannerisms or characteristics that someone can identify," says Cranston Police Lt. Matthew Kite.
One suspect is heavy-set with a pony tail, the other is shorter and thinner.
"It was awful. It was awful. My stomach is still in a knot over it," says Ryan.
Police are looking into serial numbers as a means to track down the stolen equipment. If you recognize any of the two individuals or have any information about this crime, please contact Detective Joseph Hopkins at 401-477-5065, or by email at jhopkins@cranstonpoliceri.com.
© WLNE-TV 2015