Police union head: Sorry for Clinton prison costume photo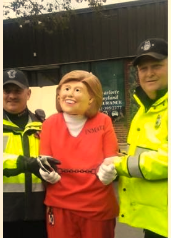 By: The Associated Press
news@abc6.com
MEDFORD, Mass. (AP) _ A police union president in Massachusetts is apologizing for posing for a photograph with a person dressed as Hillary Clinton in a prison jumpsuit.
The Boston Globe reports that Harold MacGilvray, of the Medford Police Patrolmen's Association, says he used "poor judgment" in posing during a fall festival Saturday in West Medford.
Republican New Hampshire Rep. Al Baldasaro, who maintains Clinton has committed treason, tweeted the photo to the Democratic presidential nominee and her GOP counterpart Donald Trump.
MacGilvray says the photo was taken spontaneously, and wasn't meant to make a political statement. He apologized.
Another officer is also shown in the photo, which was removed from the patrolmen's association's Facebook page.
The paper reports that MacGilvray and several officers also posed with someone wearing a Trump mask.
© The Associated Press WLNE-TV / ABC6 2016