Political loyalties switch in Rhode Island Governor's race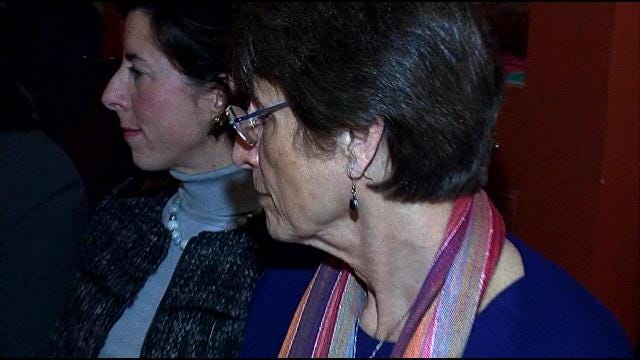 by ABC6 Chief Political Reporter Mark Curtis
It was billed as a roundtable focusing on economic issues affecting women
But it became more about politics when Myrth York endorsed Gina Raimondo for Governor.
Four years ago, York was campaign co–chairman for Angel Taveras for Mayor.
Reporter Q: So this is nothing personal that you are picking Gina over Angel in the race? You had endorsed him in the past.
"That is correct. No, this is a choice in this race for Governor. And I believe of all the candidates that Gina will make the best Governor," said former candidate Myrth York.
York wishes Taveras had run for a second term as mayor; not governor.
The Taveras campaign declined comment.
Reporter Q: How critical is it that she is jumping teams?
"I am thrilled to have her support. I think she has a great organization, that she's going to bring to the table to help me be successful," said Treasurer Gina Raimondo, (D) Candidate for RI Governor.
ABC6 Chief Political Reporter Mark Curtis said, "Questions remain about how much the endorsement may play gender politics. After all, Rhode Island has never had a female governor."
Raimondo does not shy from targeting female voters.
"I'm reaching out to women, because they are half of our population," said Raimondo
"I think it's a smart move on her part," said Rhode Island College Political Communications Professor Valerie Endress.
Political analysts say focusing on women is a good strategy, but the endorsement of Myrth York, may not be that influential.
"In this day and time, where there are so many political debates. There's so much information out there for candidates. I think it might be a tiny hiccup, but I don't see it having much of an impact," said Dr. Endress.
Myrth York ran for Governor three times, but never won.