Politicians call to end gun violence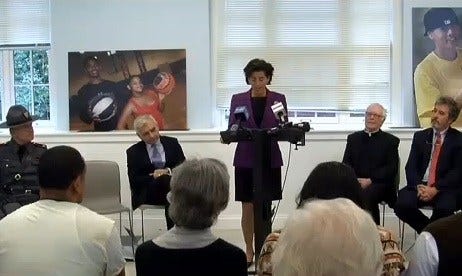 By: Rebecca Turco
Email: rturco@abc6.com
PROVIDENCE – A call for action to end gun violence in Rhode Island and beyond.
"Americans have a right to bear firearms, but we also have a responsibility to prevent dangerous people from possessing firearms and hurting others," said U.S. Senator Jack Reed (D – RI) at a joint conference with Governor Gina Raimondo and anti-violence advocates.
Last year, RI State Police made more than 260 gun arrests. Most of the criminal shooters got their guns legally, according to Col. Steven O'Donnell.
"I view it to be quite simple: we shouldn't have guns in schools, and we shouldn't allow guns to get in the hands of folks with a history of domestic violence, Gov. Raimondo said.
She hopes to close loopholes by making those two initiatives law. "We think people ought to be safe in their home and children ought to be safe in school."
Meanwhile, Senior Deputy Minority Leader Rep. Michael Chippendale (R – District 40) feels proposing laws like that is just political grandstanding. "Isn't it just really silly that we're talking about making a law that would say you can't have a firearm on a school when the people who are perpetrating these crimes are committing the most heinous crime of all, which is murder," he asked. "Why aren't we just enforcing the laws we have now [rather] than just hurl more?"
Gov. Raimondo hopes to go over gun safety laws in the next legislative session.
On a federal level, Sen. Reed says he is working to close loopholes in gun laws, and mandate background checks for firearms sold online and at gun shows.
© WLNE-TV 2015