Polls Show a VERY Close Race for Governor in Massachusetts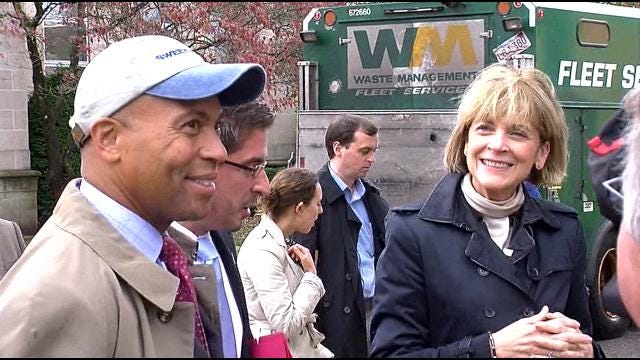 Twitter: @markcurtisABC6
email: mcurtis@abc6.com
Massachusetts Democratic nominee for governor, Martha Coakley, toured downtown Attleboro with Mayor Kevin Dumas, and Governor Patrick.
They were looking at the downtown revitalization effort, they all support.
The visit comes in a week where two new polls who Coakley, tied in the race for governor with Republican Charlie Baker.
"Well we don't pay attention to the polls. What it will come down to I think, is who has good ideas about moving our economy ahead and. This kind of development as we've seen in Attleboro; investing also in our kids, like this playground; and good schools," said Attorney General Martha Coakley, (D) Nominee for Massachusetts Governor.
Coakley has been Attorney General for two terms.
ABC6 Chief Political Reporter Mark Curtis said, "While the Bay State often votes Democratic and has had a Democrat for a Governor for the past eight years, Republicans think they have a fighting chance this time around."
So the GOP has been out planting campaign signs for Charlie Baker, and manning the local party office, to help get out the vote.
They are bolstered by those polls showing the Governor's race is tied.
"He has the skill set, the experience, the connections with the real world, to bring solutions to help us solve so many of our problems that we have here in our state," said State Rep. Betty Poirier, (R), a supporter of Charlie Baker for Governor.
So, it appears the Baker – Coakley race for Governor, to replace Devel Patrick, will go right down to the wire.