Portsmouth Police identified woman who abandoned dogs on Thanksgiving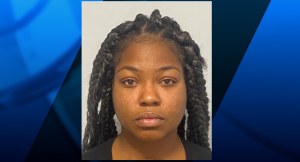 PORTSMOUTH, R.I. (WLNE)- The Portsmouth Police identified a woman who abandoned two dogs on the side of the road Thanksgiving morning.
The owner of the dogs was 29-year old Joneya Mack of Newport.
Portsmouth police took her into custody on Wednesday.
Mack was charged with one count of each Unnecessary Cruelty of an Animal, Abandonment of an Animal, and Felony Abandonment of an Animal.
The police received a call that two female dogs were found lying on the side of the road in the Gardner Seveney Sports complex.
They appeared to be abandoned, lethargic, and emaciated.
The dogs, named Turkey and Gravy, were taken to the emergency veterinarian. Turkey had to be euthanized as a result of her health condition. Gravy is currently under veterinarian's care and will be released to the Potter League for Animals in Middletown.
Mack was arraigned and released on bail, according to the Portsmouth Police.
She will be rearraigned on Thursday.