Potholes plague roadways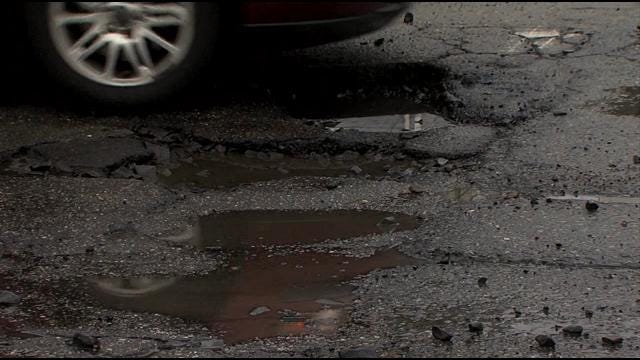 By: Melissa Randall
You bob- you weave, but it's becoming harder and harder to avoid those pesky potholes.
"Really, really horrifying experience," said one driver.
"You get slammed- get discombobulated- worried about what happens to the car," said another.
It may be nice to see the snow and ice begin to melt, but all that water freezes over night pushing up the pavement leaving behind potholes.
Workers at Tire Warehouse in Providence have been busy replacing blown out tires.
"We've probably had today about 10 people hit potholes," said manager Lance Munroe.
In most cases a patch job won't cut it meaning you could be dishing out hundreds of dollars for new tires.
"The thing is it damages the rim, and the rim damages the tires so we would have to put a new tire on it," said Munroe.
Bill Bombard, Chief Engineer for the city of Providence, says in the long run a 40 million dollar road improvement project will help reduce the number of potholes on city streets. Until the paving is complete his office is prepared to re-assign man power to plug the potholes.
"On any given day when we're not plowing snow or dealing with a snow event we might have 4 or 5 people out locating pot holes and we might have 5 crews out filing potholes," said Bombard.
Drivers say they've had enough white knuckled moments behind the wheel this winter and want to see progress soon.
"It's not just an annoyance. I think it's more of a danger. Sometime we may have a big accident because of these potholes," said one driver.
(C) WLNE-TV 2014
Follow me on Twitter @MelissaARandall