Claims for pothole related damage on the rise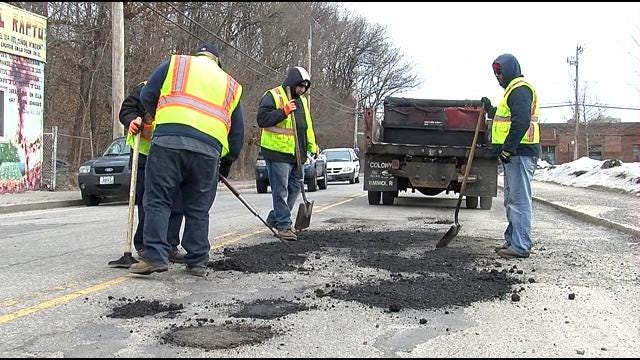 By: Melissa Randall
Several DPW crews were seen patching up city roadways Tuesday. There are 5 teams out working on potholes at any given time. The potholes will be filled in on main roads first then the secondary.
"We're going out every day– weather permitting– we're using all of the resources available to the department of public works," said Bill Bombard, Chief Engineer for the City of Providence.
One of the challenges crews are facing is that asphalt plants have closed for the winter. That means city crews can't buy hot mix, and instead have to use a cold mix or high performance patch.
"It is not the perfect solution. It is not the panacea to the problem, and it doesn't always perform as well," said Bombard.
Frustrated drivers reported about 110 potholes since November. So far crews have been able to patch up about half of them.
"It's our goal to have all potholes filled within 48 hours of being reported. Obviously in this challenging time it may be longer– it may be even quicker," said Bombard.
ABC6 News looked into claims for pothole related damage in Providence. So far this year 180 have been filed. That's about half as many as last year. During another bad winter, 2011, drivers filed about 500 claims with the city.
Expenses to fix the potholes in Providence this winter are up more than 30 to 40% from previous years.
Click the link to find out more about filing a pothole claim: http://www.providenceri.com/city-clerk/claims
(C) WLNE-TV 2014
Follow me on Twitter: @MelissaARandall