Power plant opponents to begin 3-day march in protest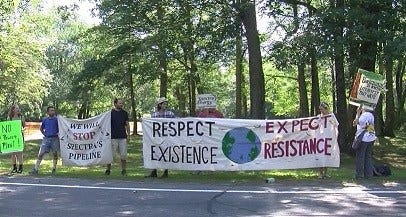 By: The Associated Press
news@abc6.com
PROVIDENCE, R.I. (AP) _ Opponents of a planned gas-fired power plant in the town of Burrillville are beginning a three-day march to protest the project.
The march was set to begin Saturday morning at the Rhode Island State House and continue for about 23 miles to Burrillville.
It's scheduled to conclude Monday evening at Burrillville High School, at the same time that Democratic Gov. Gina Raimondo plans to hold a community meeting about the plant.
Rhode Island's Energy Facility Siting Board is reviewing plans by Chicago-based Invenergy LLC to build the 900-megawatt plant in Burrillville's village of Pascoag.
The village is located in the state's rural northwestern corner near its borders with Massachusetts and Connecticut.
© The Associated Press WLNE-TV 2016