POW/MIA honored with chairs in Fairhaven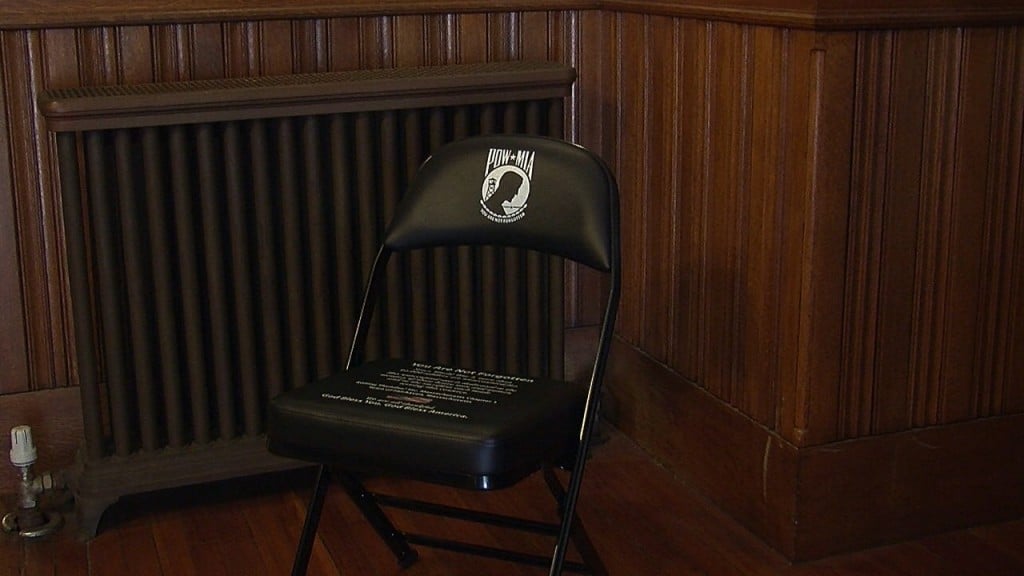 By Dana Griffin
@danaRgriffin
FAIRHAVEN, MA- Since World War I, 91,000 men and women have been unaccounted for.
"I know 13 people that never came back," said Vietnam veteran, George Brownell.
Two black chairs now a reminder to never forget, will be everywhere in Fairhaven those veterans might be if they were still alive.
One is a fold out chair, portable and will be at every town meeting, parade, and other veteran events. There's also a stadium–style chair being shipped in the next few weeks that will be bolted to the ground inside town hall.
Vietnam veteran, Gerry Payette said, "So, it'd be very improper for anybody to sit on it because it's to honor them."
A group of local veterans brought the idea to the Board of Selectmen after seeing a similar chair in Freetown and at Gillette Stadium.
"I said this is a great idea and it was unanimously voted by the Board of Selectmen to have a chair of honor in our town hall," said Charlie Murphy, chairman of the Board of Selectmen.
The men helped pay for the chair. They also received a $250 donation from a local credit union.
"Sometimes it bothers me that I'm home and they're not," said Korean War veteran, James Leal.
Leal fought in one of the deadliest battles, Pork Chop Hill. From his experience, once captured you're never heard from again.
Leal said, "They were tortured. A lot of them were killed in captivity. A lot in Korea were captured. I've heard stories of where they'd take somebody and it was 20-below zero and they'd throw buckets of water on 'em. And that's just one of the things, but they did a lot."
So to thank those heroes for giving their lives, Fairhaven will give them a spot so the town will never forget.
The veterans are hoping to have a dedication ceremony for the permanent chair on Memorial Day.
©2014 ABC6/WLNE-TV. All Rights Reserved.