PPD Detective, 11 Others Arrested in Operation Deception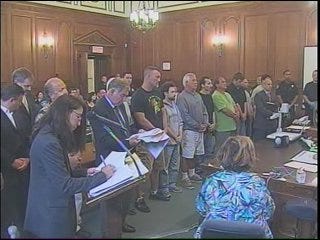 Providence Police Detective Robert Enright and 11 others were arrested in Operation Deception.
New arrests were made in a Wednesday morning sweep by Rhode Island State Police and the FBI.
Three Providence cops were arrested in March in an early wave of arrests in the investigation.
ABC6 Reporter Parker Gavigan has more…
*****
Here's a partial list of people facing charges
Robert Enright
Christopher Caccia
Christopher Cimini
Frederick Koop
Jeremiah Harrison
James Stanley
Charles Adamonis
Frank DeFruscio
Anthony DiPirro
Scott Lamont
Thomas Marrone
Mark Messier
Joseph Ortoleva
Desiree Szarwak
Daniel Scuncio
Patrick Stewart
Ronald Tabele
Mario Zotti
*****
According to Tracey Zeckhausen at the Rhode Island Department of Corrections, one of those indicted in the latest wave of Operation Deception arrests is an RI DOC employee, 56-year-old Mark Messier, a "Confinement Program Counselor." This position is more commonly known as a Home Confinement Officer.
Messier has first hired by the state in 1981. He has been placed on administrative leave with pay pending an administrative hearing.
*****
Statement from Providence Police Chief Dean Esserman on Detective Arrest
The grand jury has concluded its investigation of the incidents that resulted in the arrest of three Providence Police Department officers in March. Additional individuals across the state will be charged in connection with these incidents, including Providence Police Department Detective Robert Enright. Enright was on loan to the Drug Enforcement Administration along with Detective Joseph Colanduano, one of the officers arrested in March.
Detective Enright has been on administrative duty since the initial arrests; he was arraigned this afternoon in Superior Court and released on personal recognizance. He has been suspended.