Practical joke in icy pond leads to emergency rescue response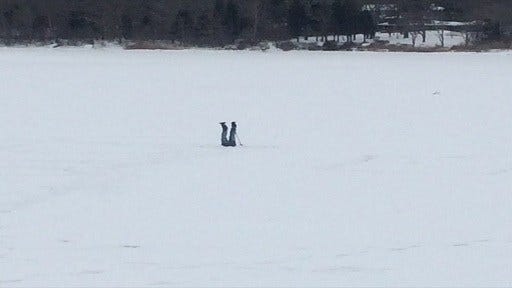 By: Rebecca Turco
Email: rturco@abc6.com
TIVERTON – What two men are describing as a practical joke of what appeared to be legs sticking out of an icy pond in Tiverton, led to a full emergency response for an ice rescue.
Erick Hartnett, 29, and Mitchell Hartnett, 20, are each charged with false fire/police alarm with intent and vandalizing.
The two men planted the dummy in Nanaquaket Pond and wrote "Mitch" and "EH" in the snow around it, according to police. They were able to arrest the suspects after finding footprints in the snow that matched those outside a house they were in across the street.
A full police and fire detailed had responded for an ice rescue on February 27 after a 911 described a man head-first in the ice. Police thought the individual may have been the suicidal student who jumped off the Mount Hope Bridge a few days prior.
"It obviously ended up being kind of a waste of time because you had all of the emergency personnel on scene for something that wasn't realistic," explained Officer Kurt Ripke.
"We take every call very, very seriously," said Fire Chief Robert Lloyd. "It took away from the resources of other people in the community and placed everyone at risk."
ABC6 News met up with the two suspects to discuss what happened. They described the situation and showed us pictures, but declined to go on-camera or state anything on-the-record.
The two suspects are scheduled to be arraigned in Newport Second District Court on Thursday, according to police.
© WLNE-TV 2015