Prescription drug abuse linked to heroin use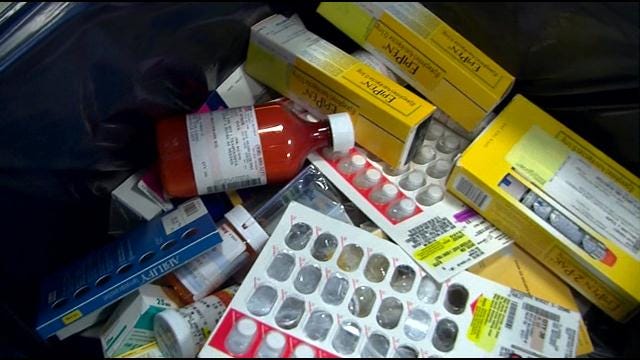 By Dana Griffin
@danaRgriffin
TAUNTON, MA- According to U.S. representative Joe Kennedy, four out of five heroin users will tell you that their addiction started with prescription drugs.
With no questions asked, over 200 pounds of drugs were dropped off at Taunton's police station for National Prescription Drug Take Back Day.
Jennifer Jacobs works at a local doctor's office. She's seen first–hand how prescription pills can be abused.
"Well, they're selling it. They're not using it the right way, always wanting more. It's a big problem, not even in our office, everywhere," said Jacobs.
Created by the Drug Enforcement Agency, the program is conducted twice a year.
Taunton Police Chief Edward Walsh said, "Whether it's hydrocodone or oxycontin, these pills on the street sell anywhere from $5 to $35 a pill in the city of Taunton right now."
There's a direct correlation to heroin use. Many users start with prescription pills. Once their body builds up a resistance to the high, they seek other drugs that will.
Walsh adds, "So eventually, they'll get to a point where they'll go out and try heroin. They'll get the same high, the body doesn't know the difference and it's a lot cheaper than buying these pills on the street."
Although, 'Skittling' parties have not shown up in Taunton, police are aware of the dangers associated with teens having access to pills.
"Kids will take medicines from the medicine cabinet and bring them to a party and throw them in a bowl and basically they're like skittles. So you just grab a handful of the pills and take them," said Walsh.
The DEA says prescription drug abuse is associated with theft, assault, and robbery.
The collected pills will be incinerated. If you want to get rid of pills, don't flush them down the toilet. It can cause ground water contamination through the sewer system.
©2014 ABC6/WLNE-TV. All Rights Reserved.