President Obama delivers 2nd to last State of the Union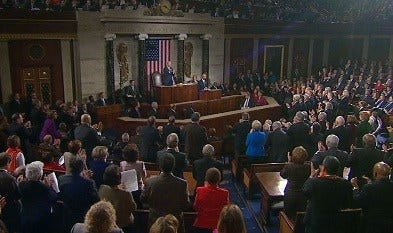 By: Samantha Lavien
Slavien@abc6.com
Twitter: @SLavienABC6
President Barack Obama told American's that the State of the Union is strong during his second to last address. The focal point of this year's speech was on building up the middle class.
The President focusing that part of his remarks around a Minneapolis couple and their struggle to get by.
The President called on Congress to implement tax cuts for working families.
"So the verdict is clear. Middle class economics works. Expanding opportunity works. And, these policies will continue to work, as long as politics don't get in the way," said the President.
Part of that proposal incorporates a plan that would make two year community colleges free. The President also told the Nation that making child care affordable needs to be a priority.
Other focal points Tuesday included Cuba where the President asked Congress to lift the embargo, and our efforts in Syria and Iraq where President Obama asked for authorization to use force against ISIS.
Following the address Senator Jack Reed spoke to ABC 6 News about the remarks.
"I think what was most striking in the speech was the recognition that building our economy based on middle class working American's is the way for economic prosperity and also it will benefit everyone," said Senator Reed.
This was the President's first State of the Union in front of a majority Republican Congress. Republican Senator Joni Ernst gave the GOP response following the speech.
"American's have been hurting but when we demanded solutions to often Washington responded with the same stale mindset that led to failed like Obamacare," said Ernst.
Obama closed his speech asking Congress to work together during the remainder of his term.
(C) WLNE 2015