President Obama Leads Emotional Prayer Service for Boston Bombing Victims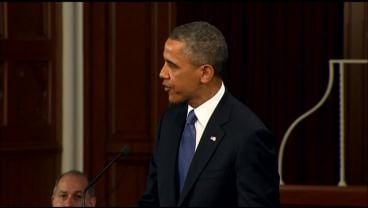 by ABC6 Chief Political Reporter Mark Curtis
It was an emotion scene in Boston today, as thousands gathered to remember the victims of Monday's bombing at the end of the Marathon. President Obama led the dignitaries who were there today.
It was an Interfaith service underscored by music, prayer and passionate speeches. Boston Mayor Tom Menino, in poor health, rose from his wheelchair to champion his city.
Mayor Thomas Menino. (D) Boston, said "Nothing can defeat the heart of this city. Nothing!" Menino added, "We triumphed over that hateful act Monday afternoon."
The crowd included victims and their families, first responders and medical personal who jumped into action right after Monday's bombings at the Marathon. There was repeated thanks for all those who helped, and praise for the Massachusetts spirit.
Gov. Deval Patrick, (D) Massachusetts said, "Let's not forget our civic faith… Massachusetts invented America."
And while the Interfaith service was somber at times, it was also meant to help heal wounds, both physical and to the nation's pride. President Obama promising those who killed and maimed would be brought to justice.
President Obama said, "It should be clear by now they picked the wrong city, to do it. Not here in Boston!" The crowd stood and applauded loudly.
The service ended with a rousing rendition of, "American the Beautiful"
After the ceremony today, President Obama visited some of the victims who remain in the hospital. I sat just about 50 feet from the President today and noticed him wiping away tears a few times. He went to law school in nearby Cambridge and has deep personal ties to this city.