UPDATE: President Obama Arrives in RI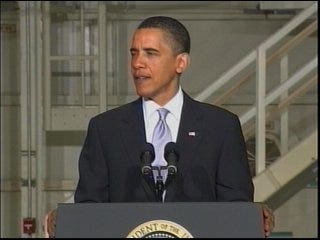 **UPDATE**
President Obama touched down at TF Green Airport in Warwick a few minutes before four o'clock. He toured the American Cord & Webbing Factory in Woonsocket, held a quick press conference, stopped inProvidence for a fundraiser at the Convention Center for David Cicilline, and is now at a $7500-per head fundraiser on the East Side.
ABC6 Reporter Malini Basu was at American Cord and Webbing and has a full report on the President's visit.
ORIGINGAL STORY
President Obama will be in Rhode Island Monday to campaign for Congressional candidate David Cicilline and take a tour of a Woonsocket factory, prompting rallies, protests, and a visit from the head of the Republican National Committee.
The President will headline a fundraising dinner for Cicilline and other Democratic candidates at the Convention Center in Providence Monday evening. Earlier in the afternoon he'll tour the American Cord & Webbing Company in Woonsocket, which produces high performance plastic and metal fasteners, as well as elastic, and non-elastic webbing and cord. The President recently signed the Small Business Jobs and Credit act, which implements a $30 billion fund for small business lending.
Meanwhile, the Chairman of the RNC, Michael Steele, will hold a rally at the local GOP headquarters in Warwick at 930am. Prominent local Republicans are scheduled to attend, including Mayors Fung and Avedisian, Representative Joe Trillo, Congressional candidates John Loughlin and Mark Zaccaria and General Treasurer Candidate Kerry King.
There is also an antiwar protest scheduled for 4pm in Burnside Park in Providence by the RI Mobilization Committee to Stop War and Occupation, as well as an anti-abortion protest sponsored by the Diocese of Providence at 1130am at the Women's Medical Center on Broad Street in Cranston.