Prized Red Sox SS prospect prepares for WBC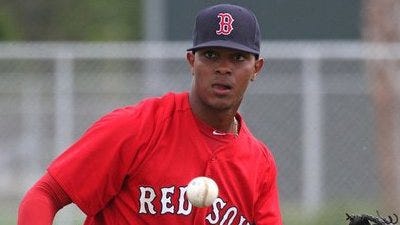 FORT MYERS, Fla. (AP) _ Red Sox shortstop Xander Bogaerts, Boston's top prospect, is chugging away at his first spring training, doing whatever he can to impress staff and teammates.
Either way, though, he'll soon be headed out of town.
Bogaerts, a native of Aruba, will be leaving JetBlue Park to join Team Netherlands as it prepares for the World Baseball Classic. The Netherlands begin competition March 2 against Korea in Taiwan.
"It's going to be exciting,'' Bogaerts said. "Those guys that that I've played with growing up, it's going to be fun playing with them again.''
The Red Sox figure the WBC is a great place for growth. After all, there are few short-term plans with Bogaerts in Boston, as shortstop Stephen Drew signed a one-year contract with the Red Sox and Jose Iglesias, another prized prospect, is still in the mix. So, 2014 might be more of a fit in Boston for Bogaerts. And until then, he just wants to play and prepare.