Probe Starts Into Mass. Chemical Plant Blast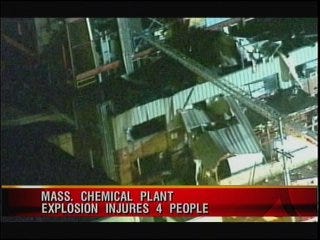 MIDDLETON, Mass. (AP) – A team of investigators is gathering to try to determine the cause of a chemical plant explosion that shook a Massachusetts neighborhood and sent four people to the hospital.
State Fire Marshal Stephen Coan says investigators from his office, other state agencies, local authorities and federal agencies will look into the Sunday night blast and fire at the Bostik Inc. complex in Middleton, about 20 miles north of Boston.
The plant makes adhesives and sealants.
Coan said Monday that investigators are waiting for clearance from structural engineers to get in the building. There is no word on a cause.
Fire Chief Frank Twiss says environmental testing has found no chemical threat to the surrounding neighborhood.
Injuries to the four workers are not considered life threatening.
(Copyright 2011 by The Associated Press. All Rights Reserved.)