Property Tax Proposal Passes Woonsocket City Council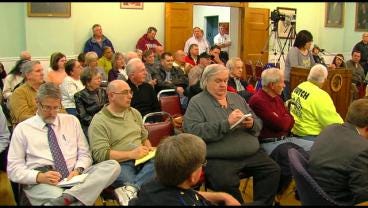 The Woonsocket City Council voted 6-to-1 Monday to enact a 13% supplemental property tax in addition to what people are already paying this year.
Woonsocket is facing a $10 million deficit. City leaders say the city would go into receivership or bankruptcy without raising taxes.
Despite the lopsided council vote, not one resident spoke in favor of the tax during the four hour long meeting.
"Taxing people additionally to solve this problem will not solve this problem, because it's not caused by a lack of revenue," explained Larry Fitzmorris, from Woonsocket.
Alethea Forcier, also from Woonsocket, feels the same. "Next year, you are going to be in the same boat, back asking for another supplemental tax increase, if a receiver doesn't come in," said Forcier.
Residents of the city sounded off for an hour during the meeting. "We can't keep paying and paying for mistakes that were not my fault," Reverend Dorian Parker said to the City Council.
The Woonsocket City Council says they have a method to their madness. "They cut us by $9 million. That's the exact amount that the state cut, $9 million is the amount of our deficit, pretty much," explained Robert Moreau, a member of the City Council.
The General Assembly must now approve the supplemental property tax, but Woonsocket is still not out of trouble.
The mayor is trying to convince retirees to take pension cuts. If unions don't go along with that plan, the city might go into receivership anyway.