Property opened to house homeless veterans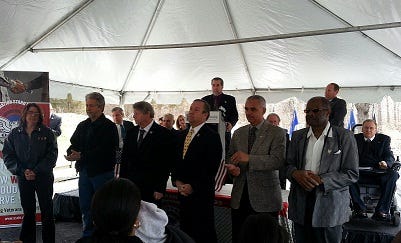 Dee DeQuattro
ddequattro@abc6.com
Some homeless veterans in Rhode Island will have a new place to call
home tonight after Operation Stand Down RI held an official ribbon cutting
ceremony for a recently rehabilitated property.
The property, which will house homeless and at-risk veterans,
was dedicated to three Vietnam Era veterans on Monday morning including a
former OSDRI resident, Jean Loiuse Mayo, U.S. Air Force, John Arthur Johnson
who helped found the organization and recently passed away, and SPC Ronald
Blake, U.S. Army who was killed in action in the Vietnam War.
The $1.3 million renovation project rehabilitated two
distressed properties at the Stand Down headquarters in Johnson. The properties
including one house and two apartments will now house four to six single
veterans and two families. In part the project was funded through Federal and
State grants.
State dignitaries including Senators Jack Reed and Sheldon
Whitehouse, Congressman Jim Langevin, Governor Lincoln Chafee, General Treasurer
Gina Raimondo, turned out to see the ribbon cut.
The renovations mark OSDRI's sixth housing project for
homeless veterans after 20-years of existing.
The organization now has its sights set on Westerly where they are currently developing
another housing complex for homeless veterans.