Proposed RIPTA Cuts Generates Rally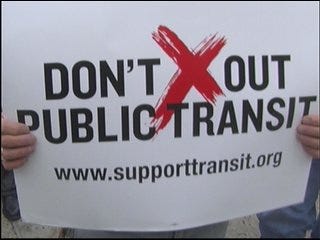 PROVIDENCE, RI– More than 100 riders and bus drivers gathered at the Kennedy Plaza today to voice their concerns over proposed RIPTA cuts.
Those who depend on RIPTA for transportation came out in full force with signs and T-shirts which said, "Don't X Out Public Transit."
RIPTA is looking at eliminating 30% of funding for transit.
A loss of federal funds would mean delays, fare increases and over-crowding for Rhode Island riders.
RIPTA's CEO Charles Odimbge says he understands riders fears, but if federal funding is cut he will have to make some tough decisions.